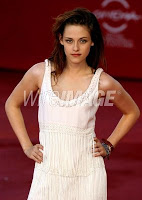 What's it been, five minutes since I've discussed Twilight?
This just in: Celebrity makeup artist Monika Blunder will create a look for Twilight star Kristin Stewart at the film's premiere in Los Angeles on Monday using Dior Beauty products.
Some of Monika's favorite Dior products are DiorShow mascara, DiorSkin Airflash foundation and the 5-Colour eyeshadow palettes.
Image credit: wireimage.com