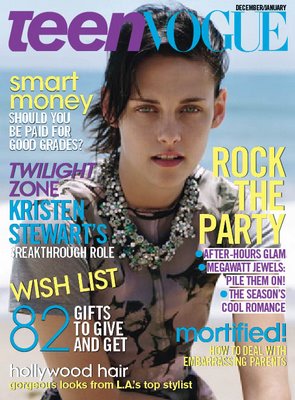 Dolls, I have read both the first and second Twilight books THIS WEEK… I cannot WAIT for this movie. Pretty much the answer to EVERYTHING in my lifestyle is that "I'd rather be reading my vampire book."
Anywho, Kristen Stewart snagged the leading role in Twilight after a four-hour audition with indie director Catherine Hardwicke (Thirteen, Lords of Dogtown).
Twilight is the hotly anticipated adaptation of author Stephanie Meyer's smash-hit debut novel – all four titles in the now-complete series continue to be best sellers – but before Kristen got the script she had never even heard of the books. Says Kristen, "Though we were warned, I figured it would be a pretty exclusive fan base. I thought we were making a cult movie; I had no idea it was going to be this, like, phenomenon."
Despite having Kristen's merits debated on Internet message boards before she had even shot a frame of film, she is almost improbably perfect to play the part of Bella Swan, a recently relocated high school junior who falls in love with a vampire named Edward Cullen, played by Robert Pattinson. P.S.? Never in a world have I seen a better representation of a fictional character. He IS the Edward I envision in my head when I read the book. Says Kristen, "Bella inhabits qualities that most girls have, even if it's not on the surface." Physically, Kristen works: she is capable of being both slightly plain (as Bella feels) and impossibly beautiful (as Edward sees her). "What I love about the story and what puts it on a different level is that it's 'chemical'…there's nobody else for either of them. Period." The romance, which Kristen describes as "unworldly but not fake," was a big draw.
Kristen's take on fashion: "If I'm just chilling out, then people can see me any which way, but it's different when you're putting yourself together to do something professionally," she says. "You're under a lot of scrutiny," she admits. "It's a bizarre thing, to me, to consider that what I wear or what I do with my hair, can affect my career." But Kristen respects the process and takes it in stride. "I'm not the type of person who has a million things in my closet to put together, so I've begun to work with a stylist and we've started to figure out what I like. Simple, classically pretty things; I love Chanel." Me, too, doll.
You can catch Kristen as Bella Swan in Twilight, on November 21, 2008. You can also see Kristen in the upcoming coming-of-age comedy Adventureland with Ryan Reynolds in 2009. The Dec/Jan 2008 issue of TEEN VOGUE is on sale nationwide November 18, 2008.
Click here to meet the cast of Twilight.
Click here to read bonus interviews with Kristen Stewart and the cast of Twilight.
P.S. Dead sexy Robert Pattinson fauxposed to Kristen whilst working on set. Robert? I wouldn't be opposed to a fauxposal. Just saying.