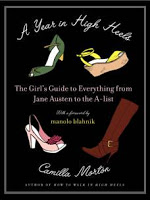 A YEAR IN HIGH HEELS: The Girl's Guide to Everything from Jane Austen to the A-list (on sale 11/11/2008: $16.95) is an eclectic collection of inspiring ideas, sensible advice, and surprising how-to's to creating a fabulous fashion-forward year.
From collecting vintage valuables in the fall to perfecting post-holiday thank-you notes, this is the guide to get girls through the seasons with a perfectly coordinated combination of culture and challenges. Fashion writer Camilla Morton advises how to perfect public speaking, throw the social event of the season, decode dress codes, start a book club, or simply how to wear red. With tons of smart tips and fun stories, Morton leads readers through a year-long fashion revamp.
Each chapter also profiles a page-turning book that every fashion-forward girl should read and a muse like Jane Austen, Frida Kahlo, and Marilyn Monroe, or Jacqueline Kennedy Onassis to inspire do-it-yourself changes.
Harper Collins has offered to give away five copies of the book for BBJ readers! Contest open only to U.S. residents. The contest ends at 5pm on Friday, November 14th.
Winners will be announced on Monday, November 17th. Good luck!