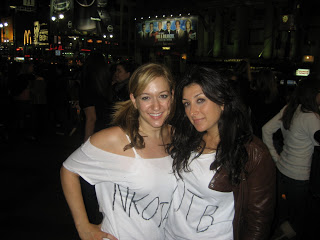 Pictured above are Lauren and I (I'm on the left) in the DIY NKOTB Ts I made for us.
I love how since I was "deprived" of New Kids on the Block concerts in the 80s, I've been going to them on a monthly basis 20 years later. The powers that be have a HILARIOUS sense of humor, as my 1988 wishes all seem to be coming true in rapid succession… in fall 2008. Major delay, but worth it: In the past month, I've taken in two NKOTB concerts AND a private Tiffany show at Bungalow 8 where I got to MEET her and was later sent an 8″x10″ autographed glossy. I'd say that pretty much sums up all I'd wanted as a fourth grader, n'est-ce pas? Click here to read my review of their concert in Long Island last month. I love when I tell longtime friends of mine about my recent reignition of my Joey McIntyre torch, though in ten years of friendship (sometimes more) the subject never arose, they'll be all, "OMG. I had the SHEETS." Nearly every late 20s gal I know hung tough at some point.
So this time, Lauren and I were prepared to look like we'd just time-machine'd in from Jones Beach, 1988. I made us some New Kids duds myself, as our respective parents threw out our vintage NKOTB Ts. A trip to Duane Reade yielded a three-pack of Hanes men's Ts and a big fat sharpie, with which I crafted DIY NKOTB treasures for us to rock: off-the-shoulder Flashdance-style long Ts for wear with leggings emblazoned with NKOTB on the front and "Before Justin There Was Joey" on the back. I was originally planning to cut the neck into a "V," but my roommate Carrie suggested the "Flashdance" cut and it was PERF.
This crowd wasn't as serious as the Long Island gals were… I saw few vintage NKOTB Ts and even few NEW ones, but one serious fan brought her ORIGINAL NKOTB circa 1989 poster ripped straight from the pages of Tiger Beat. Well done. Our orig seats where kind of budget (I mean, how could I rationalize spending big dough to see the New Kids TWICE within a month during a recession?) but as luck had it, my gal Tamar, who works at MTV, had scored some WAY closer to the front seats, so we came and sat with her. Thanks, Tamar! Tamar, BTW, had already MET the New Kids that day when she interviewed them in their DRESSING ROOM. Check it.Tamar and I furiously texted while she was waiting to be admitted into their dressing room. I wrote things like "PLEASE find out everything you can about how Joey achieves those phenom eyebrows. And if he'll marry me. Thanks." While she responded with things like, "OMG mems when Joey did I'll be There?" The answer to that, by the by, is YES. She diligently took notes during the concert for another post on the Buzzworthy blog, so stay tuned.

The concert highlights: countless costume changes, the rotating smaller stage which was RIGHT in front of our new seats on which Joey sang New York, New York as a tribute to his idol Frank Sinatra, Joey, Donnie, and Celine Dion – I mean Jordan solos, every song from Cover Girl to Tonight in addition to songs from their new album The Block (which may or may not be the most listened-to playlist on my iPod) and two encores – one of Step by Step, the other of Hangin' Tough with the dudes decked in Celtics gear. Lauren and I still screamed "I LOVE YOU, JOEY!" as if we had Tourette's every time he did ANYTHING. This time, however, Donnie announced that he's single and he's looking for a New York lady – "I also like the bigger ones," he said. It was rather hilar. He even donned a Yankees cap for the crowd. Boston blasphemy, y'all.
Were you at the NKOTB concert at MSG? "Get your mind right" and comment below. La la la la la la TONIGHT!