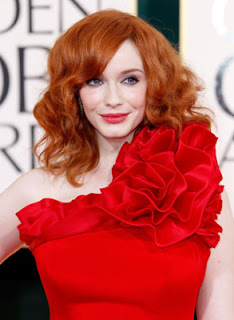 "Her dress had a rich vintage feel to it and this gorgeous accent on the shoulder that resembled a flower. Instead of putting her hair up, we opted to give it a modern twist and keep the hair bouncy and down," says stylist Jen Atkin for Sebastian Professional. "This style is great for cocktail parties, or to dress up a look."
2. Next, blowdry the hair using a Mason Pearson brush with your head upside down. Once hair is 75 percent dry, flip your head back over and curl the ends under using a round brush.
4. Using a 1″ curling iron, wrap 1″ sections in a clockwise direction and pin the curls. Once the curls are set, let it cool for 15 minutes (cool for 5-10 minutes if you have thick hair).
5. Unpin the hair and brush out the curls using a boar bristle brush. Set the part and stretch out the bangs using a flat iron to get a smoother look toward the front of your face.
6. Finish the look with Sebastian Professional Shaper Fierce hairspray.
MAKEUP
NARS worked with celebrity makeup artist Vanessa Scali to create Mad Men's Christina Hendricks' exuberant look for the 68th annual Golden Globe Awards. "I had this vision of a big, doe-eyed, lashy look from the late 70s and early 80s. To keep it modern, I kept the skin dewy with shimmering eyes and added a pop of matte texture on the lips," said Vanessa.
Below is a list of the products used on Christina, including key products from the Spring 2011 Collection:
·

         
PRO-PRIME Multi Protect Primer With SPF (NEW for Spring 2011 – available February 1st exclusively at Sephora; for now, try NARS Makeup Primer With SPF)
Love this look on her. What you do you guys think? SHARE HOROWITZ in the comments!




Like this post? Don't miss another one! Subscribe via my RSS feed.