Gals, with the economy in its ever-so-sorry state, it makes sense to cut back as much as you can when it comes to cuts and color. While I wouldn't recommend skimping on quality when it comes to highlights, I can recommend going a shade or two closer to your natural color and re-coloring less often, opting for hairline highlights in the interim.
For more economical cuts, I recommend Matthew James at the Sam Brocato Salon. A cut with Matthew will set you back only $85, a steal by New York standards. I'd formerly been paying a pretty steep $150 to see Michael Ulm at Ted Gibson, but Michael's since left the salon and I was in the market for a new stylist. I hit up the fab Matthew, whose personable demeanor and fancy brushwork was much appreciated when I'd seen him for a blow-out a couple of months ago.
The cut is GORGE. I'd just asked for a simple trim and my bangs and layers cleaned up. Nothing wild. I had those jitters about seeing a new stylist that I always have – you know, when you wonder if you'll leave with a bob when all you want is the tiniest of trims? I should have known better than to bother worrying about it, because I left with a bouncier, healthier 'do and not much length taken off. It was EXACTLY what I'd wanted. As always, Matthew shared some of his best styling tips:
*For styling bangs, scoop a small to medium round brush underneath your bangs to achieve volume (by directing heat at the roots and pulling.) Then, sort of twist the brush and slowly pull it downwards off of bangs and away from the face to create a fab "S fringe." This is opposed to a "C fringe," when hair curls in toward your cheeks making you look geeky.
*Turning the brush/keeping it moving while blasting the blow-dryer at the ends will seal the cuticle and make your blow-out look more professional.
Matthew's tips for extending the life of your blow-out: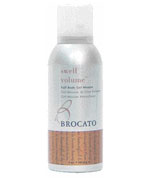 *Only use product that you NEED if you want your blow-out to last for days. He recommends a volumizer, leave-in conditioner and that's it. Hairspray only if you plan to wash within a day or two. Product will make your hair look dirtier over time. On my hair today, he used Brocato Swell Volume Full Body Gel Mousse, ($17) a creamy hybrid which sprays out like a mousse, but becomes the consistency of shaving cream after it's rubbed between hands. It yielded fantastic root volume without crunchiness. As all of Sam's products are, it's sulfate-free, which is crucial for keeping your color looking fly.
*Rather than use spray, Matthew recommends giving locks a quick pick-me-up with your dryer or flatiron. Heat, rather than product, will bring life back into your hair.
*Before sleeping on it, wrap hair into a bun on top of the head and secure it with hair pins. When you take it down in the morning, it'll regain its shape.
Tips for fine hair:
*Finer-haired gals should use a natural boar bristle brush. Metal bristles are great for ethnic-haired/coarse-haired girls, but can draw too much heat for fine hair.
*"Instead of pulling hair when styling, think of it as 'shaping' your hair," recommends Matthew. Thick-haired gals can stretch their hair out without damaging it as much.
Sam Brocato Salon
42 Wooster Street
New York, NY
212.334.3777
What are your tips for extending the life of your blow-out? Share in the comments!