This week's Weekly Phenom List features products that produce fab results, in the words of the great Lisa Lisa and the Cult Jam, "from head to toe."
Shu Uemura Moisture Velvet Shampoo ($40): I don't know what's better: the fact that this stuff actually infuses my hair with glassy shine only possible from a hydrating yet cleansing formula OR that said formula is derived from camellia japonica a unique oil originally used by geisha to soften, smooth and enhance the beauty of their hair. I mean, who doesn't want geisha hair? I sure as heckfire can't think of anything better than that.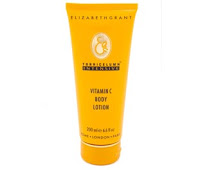 Elizabeth Grant Vitamin C Body Lotion ($40): I mean, if I were a bottle of lotion, I'd want to look just like this one. Is it not GORGE? I love the yellow/gold packaging. But, as you know, it's what's on the inside that counts — this moisturizer is like fresh-squeezed OJ after a night of alcoholic indulgence. My skin drinks it in and I feel like it's… NECESSARY somehow. It applies a bit thickly, but absorbs pretty quickly. Even better? It's formulated to be a veritable shield against aging. Its moisturizing compound – Torricelumn™ – enhances vitamin C's anti-aging properties and is proven in clinical trials to increase skin softness, elasticity and hydration, and reduce the appearance of lines and wrinkles.
Dr. Brandt Microdermabrasion for Body ($45): This is designed for use on the entire body, but I especially love using it just on my tootsies. It's a def-con 5 level exfoliator – not for the weak. It polishes and softens even the roughest, nastiest skin in mere minutes. Smooth on, leave it for 2 minutes, then rinse off to reveal gleaming pampered feet. Bonus: It's also good for improving tiny bumps on the arms and thighs called KP (Keratosis Pilaris).

Image credits: Shu Uemura, Elizabethgrant.com, drbrandtskincare.com