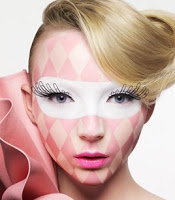 Tokyo Lash Bar 2008 is taking another exciting direction with "Couture Collection," featuring an artistic collaboration with fabulous Dutch fashion designers Viktor & Rolf. This so deliciously decadent. My mother and I talk constantly about how we'd LOVE to go to a masquarade ball Phantom of the Opera-style. I'd totes attach THESE lashes to my peepers a la the photo to the left. You'd be crazy not to, n'est-ce pas?
False Eyelashes Wing Couture: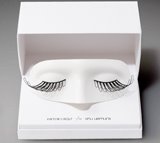 Beautiful, artistic and intricate, these lashes are delicate black and light as a wing. Handcrafted one by one to form graduating layers of scales, they are the ultimate luxury of "beauty fashion" accessories.
Price $95

False Eyelashes Swirl Couture:
Voluminous black flare adds a dramatic feel to these cute and rich lashes. The long, outer eyelashes are accentuated with an airy curl taking the ordinary blink to an extraordinary level.
Price $95
False Eyelashes Rhombus Couture: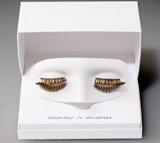 These are my favorites. To quote my late should-be mentor Diana Vreeland, these are "the most gorgeous things since the gondola." Inspired by both fashion and form, this upper and lower luxe brown set with sparkling gold rhombus pieces adds dramatic flare to any makeup look.
Price $95
Available at shuuemura-usa.com.
Image credit: shuuemura-usa.com