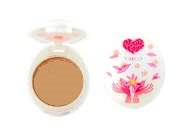 The phrase "burning the candle at both ends" is running through my thoughts today. I'm EXHAUSTED. Last night I held a L'Oreal Feria party at my friend Amber's apartment (hers is about nine times the size of mine… thanks, Amb!) which was fab. My three "colorees"' "after" photos looked great. We also made a video of the occasion with my new Flip so stay tuned for my L'Oreal party post. Post-party, I hung out with my roommate Carrie and discussed our new ratings scale for dates, which is hilariously based on our respective uber-conservative financial services job evaluations. As in, "I had a perfectly nice time with Tim, but I'm afraid he merely 'meets expectations' in the looks and personality departments. I'm going to have to give him a 3 rating [out of a possible 5]. He's not going to get a 'bonus' this year."
Then, I headed to a Sephora in midtown this morning at the ripe hour of 8am for a CARGO event where the brand introduced its new PlantLove™ Cosmetics brand. CARGO is the only prestige brand to be given the highest eco-distinction of ECOCERT™. ECOCERT™ is a global designation ensuring that all product, process and packaging meet the strictest standards for natural, organic and environmentally friendly content. ECOCERT™ guarantees that products dramatically reduce their environmental footprint. Only a CARGO event could get me out of bed a full hour earlier than usual. That and the fact that I was able to score a fab makeover by one of CARGO's makeup artists before heading to work. It was kind of painful to have to ask her to "keep it neutral," as I would have loved to try their sparkly intense green shades… but alas, neutral makeup is the only kind appropriate for my conservative work environment. She used some shimmery browns and vanilla shades to create a subtle, yet polished look. Love, love, love.
PlantLove™ is free of parabens, phthalates, petro-chemicals, synthetic dyes and fragrances. The cosmetics are only manufactured in countries with solid environmental and labor records. To further reduce their eco-footprint, the fun and flirty compostable packaging is made of Polylactic Acid (PLA), a polymer made entirely from corn, a renewable and abundant resource. PLA production emits less greenhouse gas than traditional plastics. Boxes are made from 100% post-consumer waste paperboard, and the mill supplying this paperboard manufactures under carbon-neutral conditions, using 100% renewable energy.
The PlantLove™ Natural Origin Cosmetics Collection includes:
Natural Origin Loose Powder Foundation ($30)
PlantLove™ Loose Powder Foundation delivers the effect of loose powder and foundation in one convenient product. Talc-free and infused with natural and organic ingredients such as Jojoba Seed Oil and Olive Fruit Oil, it imparts lasting, healthy benefits and flawless, yet natural looking coverage. Suitable for all skin types. Available in five wearable shades.
Natural Origin Pressed Powder ($30)
This silky, soft powder, infused with organic olive fruit extract, provides a flawless finish while still looking natural. Ideal for mid-day touch-ups. Available in two shades.
100% Natural Origin Baked Illuminator ($28)
A stunning blend of blush, bronzer and highlighter in one, PlantLove™ 100% Natural Origin Baked Illuminator gives cheeks and body an all-over warmth and glow. Made with natural terracotta ingredients, Karanja Oil to heal and condition, Grape Seed Oil rich in nourishing antioxidants and Sunflower Seed Oil to combat dryness. The Illuminator promotes healthy, nourished skin while giving you a perfect flush. Available in three shades:
• Earth – Gold, copper and bronze combination
• Wind – Terracotta, champagne and bronze combination
• Fire – Pink, pearl and bronze combination
100% Natural Origin Bronzer ($28)
PlantLove™ 100% Natural Origin Bronzer gives a natural, easy-to-blend glow. Made with all natural terracotta ingredients and baked for eight hours, it provides a satin finish for a glowing, sun-kissed look, without unflattering shimmer. The universally flattering shade, perfect for all skin types, contains Karanja Oil, Argan Oil and Grape Seed Oil all help to improve the skin, from the inside out.
100% Natural Origin Blush ($28)
Incredibly fine, micronized texture provides a soft, natural color for superior blendability. Rich in natural and organic ingredients such as Karanja Oil, Argan Oil and Grape Seed Oil, this blush keeps skin healthy while imparting incredible color. Suitable for all skin types, the silky texture of the blush is ideal even for damaged or dehydrated skin. This blush is the perfect partner to the PlantLove™ 100% Natural Origin Baked Illuminator or 100% Natural Origin Bronzer.
Available in six shades:
• Tulip – Cotton candy peach
• Peony – Shimmering apricot
• Rose – Matte rose
• Begonia – Electric rose
• Cherry Blossom – Shimmering petal pink
• Delphinium – Shimmering dusty pink
100% Natural Origin Lipstick ($20)
PlantLove™ 100% Natural Origin Lipsticks' innovative botanical formula is nourishing for lips and the environment. Sold in 20 fabulous shades, nine of which are designed by celebrities. Two dollars from every sale benefits the St. Jude Children's Research Hospital®.
100% Natural Origin Lip Gloss ($20)
Finally, a gloss that's good for your lips and good for you! Its natural, organic ingredients care for your lips and ensure a smooth texture. These silky, luscious glosses offer high-shine in a non-sticky texture. The Lip Gloss is perfect for layering over lipstick, for added luster, or lip liner, for a soft, natural look. Infused with Karanja Oil, Grape Seed Oil, Sweet Almond Oil and Apricot Wax, this Lip Gloss moisturizes while improving lip texture. Available in eight pretty, wearable shades, each with a floral inspiration:
• Sunflower – Sheer gold
• Dahlia – Opalescent pink
• Geranium – Sunny rose
• Magnolia – Icy pink
• Poppy – Sheer, sparkling poppy
• Geranium – Sheer plum
• Bonsai – Shimmering sand
• Jasmine – Nude quartz
100% Natural Origin Lipliner ($16)
Formulated with Organic Beeswax and Jojoba Oil, this lipliner softens and moisturizes lips to keep them pucker-perfect. Smooth and blendable, the lipliner applies without skips, creating a natural, gorgeous look. The perfect partner to PlantLove™ 100% Natural Origin Lip Gloss or 100% Natural Origin Lipstick. Available in two classic shades, Rose and Pink.
100% Natural Origin Lip Balm ($20)
This rich and creamy balm restores, replenishes and cares for dry, chapped lips. Infused with Organic Cocoa Butter, Sunflower Seed Oil, Beeswax and Grapefruit Extract for added care, it provides a clear base for lipstick, gloss or lipliner, or can stand alone for a natural, healthy look.
100% Natural Origin Eye Shadow ($20)
This smooth, easy-to-blend eye shadow is infused with natural and organic ingredients for healthy skin and incredible wear. Available in 18 shades inspired by tropical gardens, the high pigmentation gives great color payoff, ensuring that eyes will truly shine! The formula contains Karanja, Argan and Grape Seed Oils that combat the signs of aging while moisturizing and revitalizing the eye area.
100% Natural Origin Eye Liner ($16)
A high-performance eye lining pencil with a rich color payoff, PlantLove™ 100% Natural Origin Eye Liner is long-lasting and glideable – a true treat for the eyes! With a smooth and blendable texture, the formula is comfortable on the delicate eye area. Available in six easy-to-wear shades:
• Black
• Dark Brown
• Light Brown
• Khaki
• Bronze
• Midnight Blue
Green Goddess Collection ($36)
A collection of eye shadows and blushes. The four easy to wear shadows (Bamboo, Thyme, Beech and Lily) are infused with natural and organic ingredients for rich payoff and long wear. The two universally flattering blushes (Peony and Rose) give cheeks a natural radiance.
The PlantLove™ Collection will be available mid-September, 2008 at Sephora and Sephora.com.