Here it is, gals. The first item of 80s ladies week: Soap & Glory Feet Dreams ($10).
The inspiration: The Golden Girls' Blanche Devereaux's vegetation-themed boudoir (pictured above.)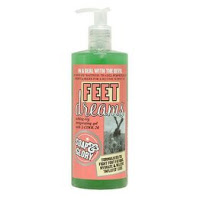 The genius copywriters employed by beauty maven Marcia Kilgore (the brills mind behind Bliss products) hail Feet Dreams as "a greener alternative to air-conditioning." That it is, girls. I like to rub this verdant crisp gel all over my legs and feet, dab a bit on the inside of my elbows and wrists and chill in front of a fan. The mentholation-ness kicks in within seconds to cool you down utterly. No A/C necessary. Though its formula is a gel, it manages to moisturize and impart a fresh green scent.
Available at Target and at target.com.
Perfect for hot climes in the summer… like, Miami. Sing it with me, Miami is nice, so I'll say it twice… Miami is nice, Miami is nice!
Can't get enough 80s Ladies Week? Check out what 80s-inspired beauty item Daneen is featuring today on Spoiled Pretty.