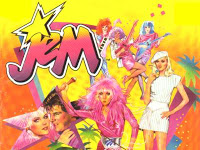 The inspiration for today's post? 80s cartoon-inspired doll Jem. Jem rocked sparkly pink like no other. That's why she came to mind INSTANTLY when I first received my bottle of NARS nail polish in Arabesque.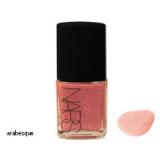 NARS Nail Polish in Arabesque ($16) is gorge, flirty pink fun. It's a sheer pink base with rounded, ruffle-cut pink glitter floating in it. It's a bit too sheer for me to wear by itself, so I pair it with a more opaque pink, like Essie Mademoiselle.
Wouldn't Jerrica wear this on a date with Rio (yes, you remember correctly. He did have purple hair.)?
What tubular 80s-inspired beauty item is Daneen loving today? Go to Spoiled Pretty and find out.