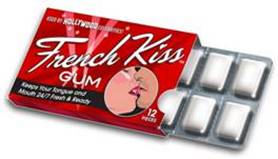 Happy Thursday! Don't forget to enter the 80s Song/Face Wash Week Contest!
My parents are in town, which usually means a Broadway show or two and some good meals. Last night we ate at Marseille on 9th Avenue at 44th Street and it was phenomenal. It's a French restaurant actually owned by a French man, which is a rarity, even in New York. I had a Mediterranean salad and the Tunisian chicken, which was out of control good. Then we saw The Seafarer, which had an amazing ensemble cast, but had a script and set that did not impress me. There was so much sitting AROUND in this play, it was literally unbelievable. A lot of card playing as well. I don't like to play cards myself, I CERTAINLY don't want to watch a play that is 30% card playing. The story line got more interesting and it did leave me thinking about it, though. Maybe it's worth seeing for that. But unless you get discounted tickets or something, I'd see something else.
Anywho, post-dinner and pre-show, I popped some of my new French Kiss Gum. Have I mentioned that I am obsessed with gum? I LOVE GUM. I am never without it. I normally chew Orbit Peppermint and I find that an entire piece hinders my speech, which you can imagine, is unacceptable to me. So I chew a half at a time. This means that I go through 1-3 packs a week as opposed to 6. I learned about Dr. Katz's gum, and was intrigued because it boasts ridiculously fun packaging, but, the strong TheraBreath PLUS Formula makes this the only gum that obliterates odors instantly. It tastes curiously of lemon and vanilla creme combined, but delish nonetheless. I rather adore it. The con is that it doesn't last as long as my standby, Orbit, but the aftertaste is not bad. Per Dr. Katz, the breath-freshening power of the gum lasts long after the taste runs out because the taste is not what is responsible for the breath control. Also, it does not contain aspartame or saccharin, retail 3 packs of 12 for $9. Makes a super Valentines Day gift! Or a gift for yourself to prepare for your imaginary Emmy-worthy scene where you kiss Matthew Fox. 14 Days till the LOST premier!