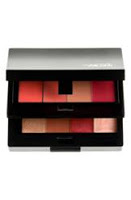 There are so many mysteries. For instance, I wonder why Sweeney Todd didn't christen himself Todd Sweeney since he had a choice as that was not his original moniker. And who can guess why so many palettes are comprised of colors that work for half the population? I've never met a lip palette that housed colors that looked good on me. Until now. Enter Trish McEvoy's Be Prepared Pink Maxed Out Gloss Kit, $21.
Possibly the cutest compact ever, this double decker palette squeezes a stunning spectrum of natural-looking glosses and lip colors into an astonishing 1.5"L X 2.125"W mirrored space. All eight shades are delightfully wearable. Colors range from shimmery champagne to universally flattering pinky brown to deeper sparkly rose.
Best of all, net proceeds of the Gloss Kit will be donated to support the Girl Scouts.