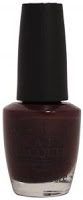 It's so painful for me to admit that I finally tried OPI nail polishes… and all the hype is true. They do last longer than Essie. I was initially turned off because I plum didn't enjoy their shades as much as my old standby. But I have fallen in love with their Russian Collection and with one shade in particular called Suzi Says Da!.
This gorgeously decadent dark chocolate nail color can only be described as indulgent. The line was inspired by the aristocratic elegance of Russia's past (very Crime & Punishment), a heritage passed down from generation to generation. The colors of this collection are lavish, sophisticated, and magnificently modern.
The Russian Collection even features an exclusive ProWide Lacquer Brush, designed to hold more polish, spread it more quickly and evenly and deliver a smooth, streak free application.
It's so hard to admit defeat.
Photo credit: lookfantastic.com