by Vicky Zhou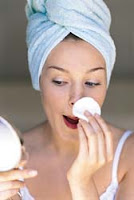 10 Beauty Tips For The First Date
Looking good on your first date is important because first impressions matter. Regardless of what you may have heard before, people do formulate an opinion of you when they first see you and it's no secret that attractiveness will factor in.
Luckily, you don't need to be the next Miss America to get a positive reaction, you just need to learn to emphasize the good qualities you have.
Here are some points to consider.
Emphasize One Key Area On The Face
Far too many women will go with bold eyes and bold lips, creating a look that is just a little too overwhelming. Instead, focus on playing up your eyes, whether you choose to make them smokey or open them up with bright colors and then play down your lips with a barely-there nude gloss.

Dab Some White Shadow In The Inner Corner Of Your Eye
As long as you are not going for something very dark with your eye color, try adding a small amount of white to the inner corner. This will really give your eyes a wide look and help set them out, showing off your beautiful eye color.
Many guys say the first thing they notice about a woman is her eyes, so why not use this to your advantage?
Always Go For The Gloss
Whether you're using lipstick or not, a gloss is a must on a first date. It'll make your lips look softer, moister, and definitely more kissable. Do watch that you don't put on a gloss that's too sticky, as this is a turn-off for most guys. Go with something that lays on the shine and potentially even tastes great for his added benefit.
Add Curls By Your Face
When it comes to your hairstyle, having half of it pulled back with a few delicate, curly tendrils framing the face is a can't miss. This further enhances the eyes and gives you a playful yet sexy appearance.
Go Easy On The Perfume
While you definitely want to make sure you smell good for your first date, try not to overload yourself. At this point, you probably won't know what types of scents your date finds attractive and if you happen to choose wrong and have applied too strongly, this could have an on long he wants to stay near you.
Choose a fresh scent since most people find these appealing and apply with ease.
Don't Overlook Gold
Gold is a great make-up color that many women never make use of. You don't necessarily have to use an intense gold color on any part of your face, but rather, enhance the look you already have with a small amount of gold powder.
It'll give you a nice tanned appearance as well, that'll glow when you hit the light.

Take The Occasion Into Consideration
Make sure when you are applying your make-up that you take into consideration the location of your date. For an evening date at a classier restaurant you will want to wear a different look of make-up for example than if you were meeting at a local coffee house for lunch.
Always ensure that your look is appropriate, not only so that you give off the right impression, but also so that you feel comfortable yourself. If you feel as though you're out of place, this will come across in the confidence level you project.
Make Sure It's 'You'
Next, you want to make sure the make-up you do wear is 'you'. If you get all done up for your first date and it doesn't even resemble how you normally prefer to wear your make-up, you'll be sending a false impression to your date, and you won't be comfortable.
While it's fine to add a few extra touches to really enhance yourself, don't go for a completely different look than your normal one.
Use Jewelery Selectively
Make sure the jewelery you choose isn't too overdone. This can lead some guys to think of you as more high maintenance so it's best to err on the side of caution for this.
One piece you may want to go for is a nice dangling pair of earrings. These help to draw more attention to your face, especially if you've used the tips mentioned above.

When In Doubt, Use The Less-Is-More Approach
Finally, when you're prepping for your first date, if you are even questioning whether you should add more make-up, chances are you should leave it off.
The vast majority of guys actually prefer women who look more natural and whose make-up isn't noticeable rather than women where it's clearly obvious she's painted the colors of the rainbow on her face.
Keep eye make-up natural and use a fresh lipstick color that's not too overwhelming. You'll likely find this is what turns the most heads – particularly that of your date.
So, keep all of these points in mind next time you find yourself preparing for your first date. While it won't make or break whether he wants to see you again, if you enhance your natural beauty just right, it might add a little something extra to that 'spark' of excitement he feels when he first lays eyes on you.
About Vicky: Vicky is a co-editor, soon to be author, and a freelance writer. You can read her articles on women lifestyle, and dating here.
Photo credit: Jupiter Images