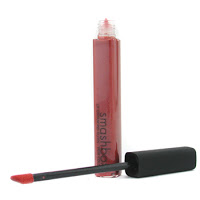 So more to recommend from the Nicola bag of delight: Smashbox Lip Enhancing Gloss – True Color in Surge. This warm cinnamony-nude color is rich in pigment and delivers an almost plasticy (in a good way) shine. Includes Vitamin E and sunflower seed oil to nourish. My lips feel moisturized (a welcome change taking into account the hellacious weather we've had of late) and are treading the line between sexy and profesh. I love to tread that line.
Can I just say that I'm SO glad Chris March is back though he was "auf'd" on Project Runway? I mean, I don't even enjoy most of
his fashions, but you better believe I clapped when Tim Gunn told him to come on out! Oh and Christian kills me with his "The judges may die over it. Or, they may die BECAUSE of it." spiel he does every single time. But congrats to him on winning a very difficult but GENIUS challenge. The mission was to design a new outfit from a woman's former "fat" clothes since losing a significant amount of weight.
Have a fab weekend!
Photo credit: makemeheal.com