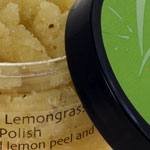 I had a fab weekend in the Hamptons and this time, I packed Klean's Thai Lemongrass Sugar Scrub and their Orange Glow Bath Syrup (their lingo for shower gel). This scrub, like Klean's Blue Hawaii Scrub, is divine. It moisturizes, sloughs, and envelops you in a delish lemon-sugary scent, kind of like one of my fave perfumes, Fresh Lemon Sugar . Even more divine is the $11.50 price tag. It does duty as a shave gel as well, since I most inconveniently left mine at home. Just be careful to dispose of the lemon peel chunks in the scrub, as it doesn't make an attractive shower floor decoration, and may be too large to fit down the drain. The Bath Syrup is an oil/gel hybrid that's perfect for after a day at the beach. It's foamy, thick enough, and moisturizing as heck. Smells of orange spice cake, in a good way. Love, love, love. Also $11.50.
In other news, my friends L, E and I decided we are going to go on a lobster roll tour of NY as I sampled the best one I've had to date at Driver's Seat in Southampton. DELISH. I highly recommend it. We then discovered the best bar in the Hamptons is Madame Tong's (last time, we learned that the WORST one is Stereo. I still have nightmares) and identified this year's DB olympic anthem as "World Hold On" by Bob Sinclair. You should have viewed the fist pumping when the song came on (twice). Hilar. PS the guy who ran our house is the MAYOR of Cutehampton, if I do say so myself (and E, L and I did… about 39 times throughout the course of the weekend). I mean, the three of us immediately morphed into Lorraine from Back to the Future every time he entered a room and the word "dreamy" was murmured.
Happy Monday to all of my Internet friends!