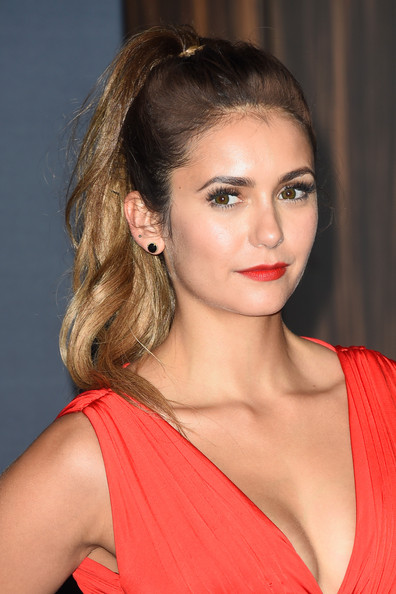 Beau Nelson did the makeup honors for Nina Dobrev's MTV VMA look. "I wanted to keep Nina looking fresh and sophisticated, so I decided to echo her dress color in her lips. I kept the rest of the face neutral and softly contoured emphasizing her perfect skin and beautiful bone structure," said Beau. Here, the beauty breakdown, in his words.
Brows were an important focal point. I used Anastasia Brow Pencil in Dark Brown and Brow Powder in Taupe to define brows leaving them soft but strong. I used Jouer Luminizing Moisture Tint mixed with Armani Designer Lift to perfect already beautiful skin and covered any redness using Cinema Secrets Concealer.
Cheeks were contoured with Tom Ford Shade and Illuminate and Charlotte Tilbury Filmstar Bronze and Glow. I used NARS Multiple in South Beach to add a little bit of bronze glow to the face.
Nina applied her own individual flash lashes with her fingers (amazing!) and I coated them and her natural lashes with a light cost of L'Oreal Carbon Black Mascara.
Lips took center stage with Jouer Hydrating Lipstick in Ava, which I applied with an Urban Decay lip brush for precision.
The final touch was MAC Clear Lipglass on eyelids to make them look almost plastic coated, which I found to be an interesting contrast of texture between her satin texture skin and her semi matte vivid red orange."
What do you think of Nina Dobrev's look?