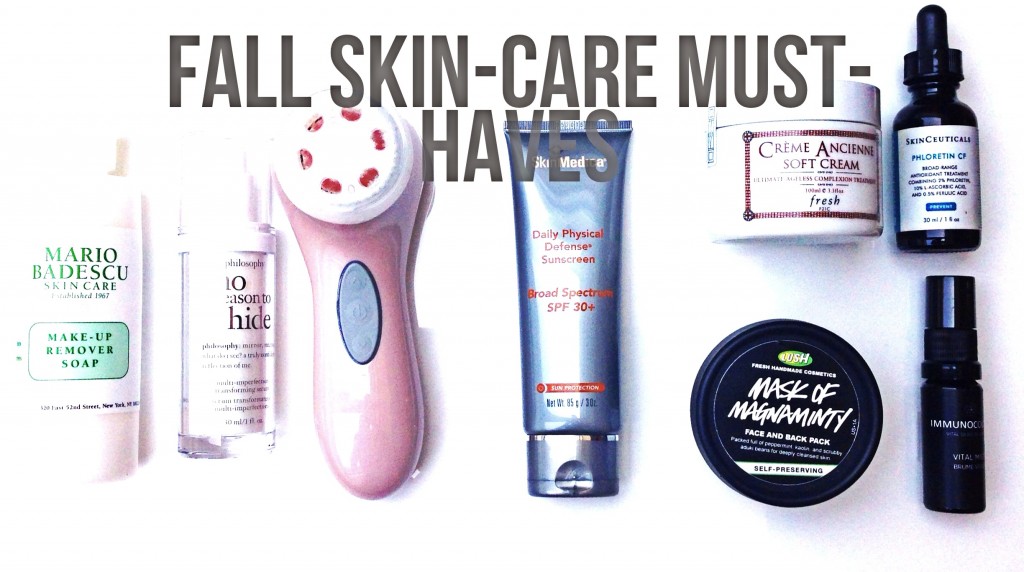 A summer of sun, fun and pollution can leave your skin looking less than fresh. Here, my top picks for skin care solutions to get your face back in ace shape for fall so that it's the perfect canvas for bold lips and shady lids.
Mario Badescu Make-up Remover Soap ($20)  First off, don't be put off by its "soap" designation. Think of this foamy cleanser as a pre-cleanse step, to first take off makeup before getting down to business with your regularly scheduled one. It's oil-free, creamy and non-drying and has utterly replaced my oil cleansing step, once I read that coconut oil could be causing breakouts rather than helping to eliminate them.
Philosophy No Reason To Hide Serum ($68) This daily treatment is clinically proven to lessen the appearance of skin-tone inconsistencies and smooths out the topography of skin.
Clarisonic Sonic Radiance Brightening Solution ($250 for the set; includes cleanser, wash, peel serum and brush head along with brush OR $150 for the brush alone) I have never met a Clarisonic I didn't love and this latest one helps combat the appearance of hyperpigmentation, acne marks and uneven tone. Use it on its own with your favorite products, or with the ones it comes with, my favorite being the LHA-infused Peel Wash, which exfoliates and retextures skin for luminous results.
SkinMedica Daily Physical Defense Sunscreen Broad Spectrum SPF 30+ ($24) This lightweight UVA/UVB protectant that boasts an elegant, sheer texture to safeguard against harmful rays.
Fresh Creme Ancienne Soft Cream ($140) The original is my winter go-to, but only in the most Arctic conditions. This Creme Ancienne lite iteration is to the original as custard is to ice cream: The delicious goodness in a whipped, bunny-nose kiss consistency. It imparts moisture and softens skin beautifully.
Lush Mask Of Magnaminty ($13) Unplugs better than MTV did in the '90s, thanks to this scrubby, minty mask. I like to keep it on for 5-10 minutes in the shower to deep-cleanse my pores with a little tingle. I've been using it twice a week and my face is visibly clearer. Get involved. You can use it on your back or chest, too. Also? It's one of Fresh's self-preserving items, which uses natural preservatives like salt, honey and clay to keep it fresh for longer.
Skinceuticals Phoretin CF ($159) Everyone's go-to skin safeguarder of the universe, Phloretin CF is a broad-spectrum treatment that protects from free radicals known to cause cellular damage, plus imparts antioxidants to correct existing damage. A must for pollution-filled cities like NYC, and in fact, more than 80% of the world's population is exposed to pollution that exceeds World Health Organization's recommended levels.
Immunocologie Vital Spray ($65) Hyperbole it's not: I wouldn't board an aircraft without this mineral-infused facial mist in tow. Its rich consistency goes far beyond flimsy water sprays of yore and includes zinc, which is fabulous for my acne-prone peau. PEAU SHO.
What's on your face these days?