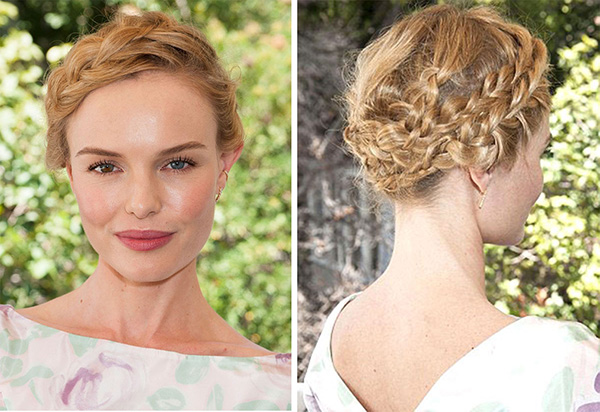 Bridget Brager created a pretty plaited crown for Kate Bosworth for the launch of her new fashion app, Style Thief, last night at the Chateau Marmont in Los Angeles. Says Bridget, "Kate's braided hairstyle was intricate and romantic to match the scenery at the Chateau Marmont and her gorgeous RED Valentino dress." Here's how to get the look.
"I started by giving her hair a good douse of Phytovolume Actif Volumizing Spray, roots to ends. To set in texture and add thickness, I blew her hair dry using my hands, really concentrating on lifting the hair away from the scalp and up off of her head, especially around the hairline.
Next, I created a disheveled deep part. Starting at the crown, along the part, I began braiding forward so the braid would fall towards her forehead concealing her hair line, which is what gave way to a soft romantic feel. Then I started a second and third braid at her temples, braiding back on each side.
Using Kevin Murphy Easy Ride pomade to tame fly aways and add a bit of shine, I loosened the braids to make them billowy and voluminous. To get the detail in the back, I wove the braids together and pinned them low to give a halo effect.
To finish, I sprayed a light coat of L'Oreal Elnett Hairspray and allowed any bits to fall as they may – and she was set!"
What do you think of Kate Bosworth's braid here? And her new app?