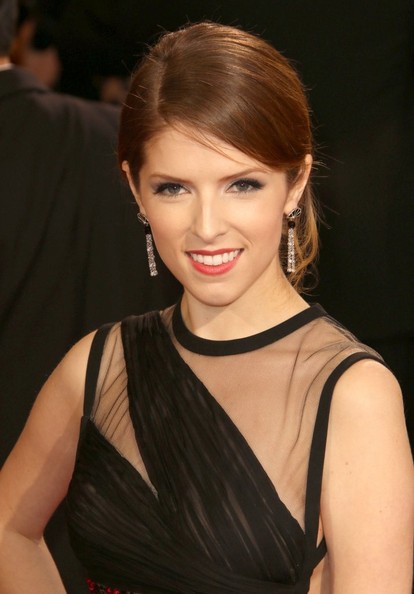 Sara Glick for Dior Beauty created a stunning makeup look for Anna Kendrick for the Oscars. "We wanted to make a statement with the makeup, and show a more playful side, while still keeping true to her classic beauty. We usually plays her lips down with nudes and light pinks…. but for tonight, I wanted her to stop the show by surprising everyone with a bright lip in the amazing new Fluid stick shade Open Me, which is easy and smooth but the color lasts, so we didn't even need a liner under or a gloss on top." Here, the beauty breakdown. 
COMPLEXION
Dior Pore Minimizer Skin Refining Matte Primer, $42, Dior.com
Dior Skinflash Radiance Booster Pen in Rosy Glow (#001), $37, Dior.com
Diorskin Airflash Spray Foundation in two shades for contouring (#100 and #200), $62, Dior.com
Diorskin Nude Tan Golden Shimmer Powder Transat Edition, on t-zone and neck as highlighter, $58, Saks Fifth Avenue Stores (Limited Edition Exclusive to Saks Fith Avenue Stores Nationwide, launched March 1st, 2014)
DiorBlush Vibrant Color Powder Blush in My  Rose (#943), $42, Dior.com
EYES
Dior Backstage Eye Prime,  $42, Dior.com
Diorshow Art Pen Intense Professional Felt-Tip Eyeliner in Catwalk Black (#095), $30, Dior.com
Dior 5-Couleurs Eyeshadow Trianon Edition in Pastel Fontanges (#234), $61, Dior.com
(New Limited Edition Spring 2014 Color Collection)
Diorshow Mascara in Catwalk Black (#090) $25, Dior.com
Dior Powder Eyebrow Pencil  in Blonde (#653), $29.00, Sephora.com
LIP
NEW Dior Addict Fluid Stick in Open Me (#753)
 (Available to purchase in special preview on Dior.com March 15th; Launches in stores nationwide May 1st; $35 each)
What do you think of Anna Kendrick's makeup look here?