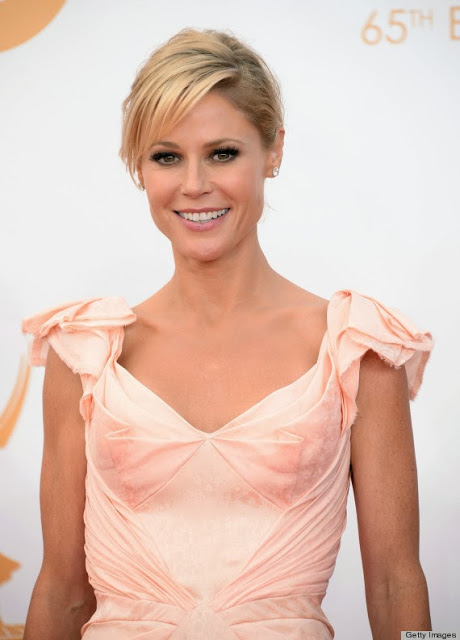 Julie Bowen looked absolutely gorgeous in a simple, low chignon with texture and draped bangs courtesy of stylist Jill Crosby. And her Zac Posen pink confection? Divine. Said Crosby, "Julie's dress took center stage so the hair and make-up needed to make room to do that. The hair was slightly sculpted with a rough, natural texture. This is a fun, easy look that anyone can do!" Here's how she got the look. 
Jill began with damp hair and used prep spray for texture. She sectioned the hair with her fingers and dried using the T3 Featherweight Luxe 2i Dryer with the concentrator nozzle for directional drying. Jill rough-dried the back to keep the volume and texture.
Jill then used the T3 SinglePass Straightening & Styling Iron to remove the bend at the ends while being careful not to smooth the hair.
Jill made a deep side part and pulled Julie's hair into a low ponytail then created "mini volume and texture" by pinching and rubbing the hair with her fingers.
Next, Jill added extensions in order to create a thick fishtail braid. Jill then pinched and rubbed the braid to create roughness.
Jill wrapped the braid into a classically shaped chignon at the nape of Julie's neck.
Finally, Jill raked the left side of Julie's bangs back, allowing the right bangs to drape loosely in front and finished with a finishing spray.
EXPERT TIP: "Too many sections look too well groomed; you want to maintain the roughness and texture. You don't always need a brush to complete a red carpet style!"
What do you think of Julie Bowen's hairstyle at the Emmys?
Like this post? Don't miss another one!
Subscribe
via my RSS feed.