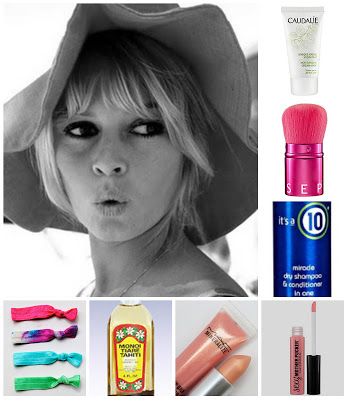 I gravitate towards black, grey and white clothes so this
colorful tie-dye hair-tie
(say that three times fast) was a welcome addition to my arm candy.
Amber gave me a bottle of
Monoi Oil
 and I shudder to think of how I lived without it. It simultaneously reminds me of a glowy, Blake Lively-esque goddess and Kate Bosworth in the movie
Blue Crush
. It is coconut, flower, hydration heaven. As with most oils, you can really use it any which way you like; from your hair to your toes, you are going to find any excuse to use it so I recommend you order multiples. 
Lately I have been using
Warm Companion by MAC
and layering
Sexy Mother Pucker
.
The lipstick is a gold, frosty peach from an old collection but the only reason I mention it is because I tried it for the first time this month and after I applied it, I felt it was too frosty for me. But I am the type to layer on more product rather than take some off, so I popped on this sticky, plumping gloss to blend out the frost and suddenly my lips went from looking like a glittery, artificial cupcake to subtly shimmery and full. 
Oribe's Dry Conditioner was
so last month
! Now it is all about
It's a 10 Miracle Dry Shampoo and Conditioner In One
! Okay, jokes aside, I am obsessed with both of them because they work really well ( in different ways) and smell awesome. It's a 10 has a more fresh, day-time smell and dry shampoo result whereas Oribe is a sexy, night time, volume creator. 
This adorable kabuki
has been in my bag all month. Not only does the bright color make it easy to find, but the bristles are super soft. I have been applying bronzer on the go with this little tool, but I suspect it would be great for applying foundation as well.
It has been the summer of soft skin, mostly due to Caudalie Moisture Cream Mask. Thick and creamy, this very gentle mask is perfect for any skin type and will definitely be useful as the weather gets colder and my skin gets drier. However, one should never underestimate the importance of moisture in the summer months and this weekly treat has left my skin plump and smooth.
What products are you loving this month?
Follow Julia on Twitter: @Julia_Casella.

Like this post? Don't miss another one! Subscribe via my RSS feed.