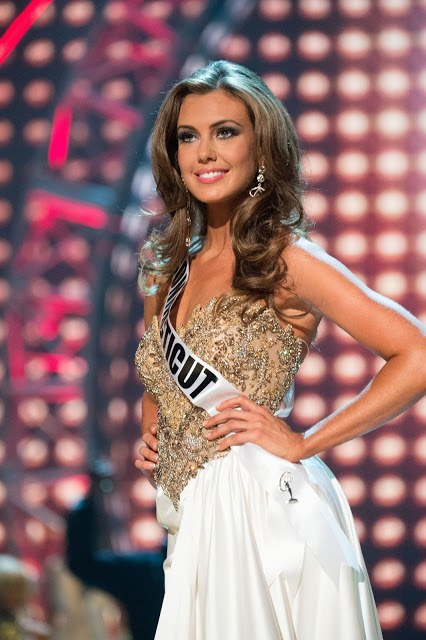 Here she is…
Miss USA
! The beautiful
Erin Brady
of Connecticut took home the tiara on Sunday night with a marvelous mane. Here, the details on how to recreate the look, courtesy of her hairstylist
Sara Moreno
. 
"Start by misting the CHI 44 iron guard to all the hair for thermal protection and brush through.  Then section the hair into 4 sections: top, left side, right side and back. Beginning in the back area, make 3 subsections and apply CHI MAGNIFED VOLUME FINISHING SPRAY  to the subsection, then take 1" strands from the subsection and back comb underneath each strand and curl with the CHI DIGITAL CURLING IRON 1".  
Then use a clip to secure the curl and allow to cool.  Continue to do this to each section directing the curls to the back to get that sultry volume. Release the curls and brush the hair giving direction to the back. 
Seal and define the style by using a pea size amount of CHI KERATIN SILK INFUSION and CHI PIABLE POLISH to tame flyaways and finish with the power of CHI MAGNIFIED VOLUME XF HAIRSPRAY and add the royal shine of ROYAL TREATMENT RAPID SHINE for a natural looking finish."
Were you happy Erin Brady won? What are your thoughts on her 'do? 

Like this post? Don't miss another one! Subscribe via my RSS feed.