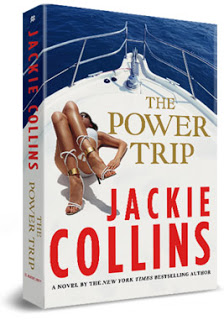 Reading
Jackie Collins' new novel, "The Power Trip" is set on a luxury yacht off the coast of Cabo San Lucas and features a Russian billionaire, his supermodel girlfriend, and four other power couples depart on a maiden voyage. Bedroom scenes, massive wealth and decadent baubles abound, naturally. If you love the selected works of Jackie Collins (and I have since high school), you'll devour this on a single plane ride or weekend–and you won't even bemoan the absence of Lucky Santangelo. Get it at target.com. 


Watching

Primer. I love that this is a real time-travel movie (albeit only a few hours into the past), unlike the sci-faux movies I've been duped into seeing where NOTHING REALLY HAPPENS but everyone talks about going to the other Earth (Another Earth) and discussing time travel plum never occurs (although maybe it does at the end–but we see nothing–in Safety Not Guaranteed). But can someone explain that shit to me? #deep 

Listening To
Peter Cetera's "One Good Woman," the title of which I've been trying to track down for TWO DECADES, mistakenly looking for Chicago songs. The hunt was made even more difficult, as it's one of those tunes I've never been able to decipher words for, using my own made-up lyrics when I sing along in my head. I recently heard it on The Blend on Sirius at Courtney Akai during a lash touch-up and became obsessed and tracked it down via Sirius' website. 

And now I'm on a CeTEARa. What are you reading, watching and listening to? 
Like this post? Don't miss another one! Subscribe via my RSS feed.