Official Mascara Correspondent takes on this week's mascara installment, Maybelline The Rocket Volum' Express Mascara. Here, her review.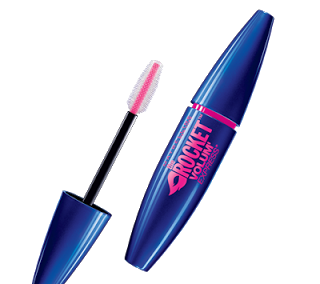 This mascara could be the long lost cousin twice-removed to Cover Girl's LashBlast mascara.  With a similarly shaped tube (except shiny and blue) and brush (a slightly stubbier version of the rubbery CG applicator), the payoff of this baby is lash, lashes, MORE LASH!  With one coat, the super black pigment offered great coverage and grip.  There's density at the roots with lift and taper at the tips.
With a second coat, I noticed what I like to call "good clumping": small sections of lashes grouped together to achieve an almost false lash look.  Just be careful pulling this second coat through the tips. The tapered tips started to get a bit wonky when weighed down by this plush formula.  However, the plush formula kept my lashes from drying out throughout the day so my afternoon touch-up was a success.  My lashes were ready for night and even held their own against my smokey shadow application.
While I needed eye makeup remover at the end of the night, this doesn't deter me from claiming this mascara my first fave of 2013!–Ashleigh Ciucci.
Maybelline The Rocket Volum' Express Mascara retails for $6 at walmart.com.

Like this post? Don't miss another one! Subscribe via my RSS feed.