Because I always get calls from former flames when Something Borrowed is On Demand who tell me they're watching it and Kate Hudson's character reminds them of me (P.S. should I be offended? Darcy is a total asshole in that flick) it's been bringing Ann Taylor's advertising to new levels of direct marketing to me. I think I need to be swathed in every single thing she's rocking in their creatives–like this perfect peplum, por ejemplo. Anyway, I obviously need to recreate this hairstyle Kate Hudson rocked for the Glee premiere last night. Here's how to get the look, courtesy of her stylist David Babaii.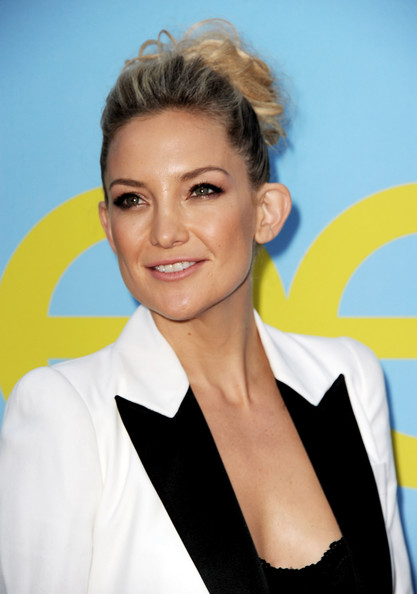 For the Glee premiere on September 12, 2012, David created his red carpet "bun-head" of textured curls to honor Kate's love of dance.
To begin, David prepared Kate's hair with IT&LY's Pure Shampoo and Pure Conditioner. After gently towel drying, he applied a small amount of IT&LY's Pure Water Drops Serum running it through the hair to add shine and nourishment. Next, he blow dried her hair with the IT&LY 2200 Watt Professional Dryer using his hands to quickly dry the hair and enhance her natural curl. Once dry, he brushed Kate's hair into a high ponytail securing it tightly to create height. Fo the next step, David sprayed IT&LY's Pure Texture to the ponytail to add texture to her curls. To create the look, David took various sized sections twisting, backcombing and looping them into a cascade of textured waves that he secured using bobby pins. To finish, he sprayed IT&LY's Pure Definition Hair Spray for a soft natural hold.
What do you think of Kate's look here? And are you as slain by her Ann ads as I am? #purchasingpeplum
Like this post? Don't miss another one!
Subscribe
via my RSS feed.