Fictionary is a column showcasing beauty-related words that don't exist, but should.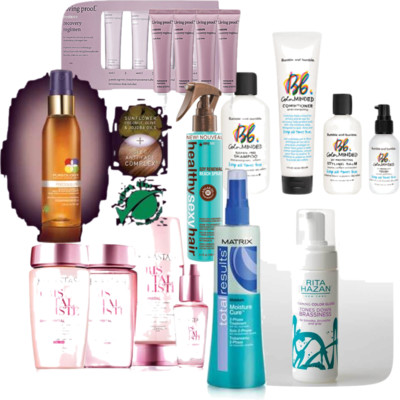 Welcome to your spring/summer hair situation, beauties. I don't know about you, but I'm always ready for a massive change in my hair care regimen come April. You have address the winter ravaged strands with a little TLC. It's simply Mane-tenance. Here, a bevy of products to help you mane-tain, even in the rainiest weather.



Pureology Precious Oil This highly concentrated oil is potent, so a little dab'll do ya. I use a smidge to nourish ragged ends pre-blowout and to define my curls after they've air-dried. Best of all, it's silicone-free, boasting a blend of coconut, jojoba, olive and sunflower seed oils. $40 at salons, available in May.


Healthy Sexy Hair Soy Renewal Beach Spray is the latest launch from the soy-infused arm of brand Sexy Hair. I use it to revive second-day hair and to bring on beach vacas where straightened hair is out of the Q. $20 at sexyhair.com.


Bumble and bumble Color Minded Collection Craving color that's just as crazy vibrant as it was on day one on day… one hundred? Bumble and bumble FEELS THAT and has created a line dedicated to help you ride that color bitch out to the fullest. If your fade is bigger than that of Kid 'n Play, you'll want to employ this UV protective line of shampoo, rich conditioner, styling balm and protective polish to seal in your hue like the airtight doors in a space ship in nearly every sci-fi movie I'VE ever seen. The products range in price from $28 to $32 each at Sephora.com.

Rita Hazan Foaming Color Gloss Intended for use in between your shampoo and conditioner, this foams into your mane to enhance or tone down color, enhancing shine. Just two full pumps is enough to get gleaming hair. I like to cocktail the clear ultimate shine iteration with the purple one to tone down brassiness. In the paraphrased words of the Beastie Boys, that brass monkey is NOT a funky monkey. $26 each at Sephora.com.





Living Proof Restore Recovery Regimen After attending an event with Living Proof chemist David Puerta last week about the latest Restore items (read my review of the shampoo, conditioner and mask here) I'm SOLD on the new Recovery Regimen. Why? Because David himself maintains that the goal of the product is to restore your hair to full health so that you never need it again. Bust open an ampule once a week in place of your regularly scheduled conditioner and emerge with  glossy, smoother, younger looking locks. $38 at Sephora.com.

Curly Sexy Hair Curl Reactivator There are two rules of curly hair. 1. Rinse-out conditioner is only a suggestion and 2. If you sleep, wear your hair up or do ANYTHING with your hair, you need to revive your curls immediately, lest your curls look like Rose's in Titanic after several dunks in the arctic Atlantic.  Regular water won't bring the spring back into your follicular step, so try Curly Sexy Hair's new spray revives boring, wilted curls in a flash. $17.50, out in August at salons everywhere.
Kerastase Cristalliste Line Created for gals with long hair, this line imparts shine, health and I find it helps me even go longer between shampoos. The line's technology incorporates liquid light complex, a trio of beneficial ingredients that address the age-old affliction of heavy roots and dry ends on Rapunzel-maned ladies. The shampoos and conditioners are divided into two formulas–one for thick hair, one for fine and there's also the suite's Luminous Perfecting Eessence, a treatment to defrizz and impart shine. $38 to $42 each at kerastase-usa.com.

Matrix Total Results Moisture Care 2-Phase Treatment In my quest for longer locks, I find I absolutely need to keep cuts–even trims–to a minimum, to the dismay of all of my hair professionals. How to keep my ends from looking disgustor in the meantime? A little spritz of Matrix's 2-phase treatment is imperative for detangling and nourishing my hair post-shower. $31 at amazon.com.
Here's to hoping you all have hair as fabulous as Anne Welles' in the famous Gillian Girl commercial in Valley of the Dolls.
What's your hair care regimen these days?
Like this post? Don't miss another one!
Subscribe
via my RSS feed.