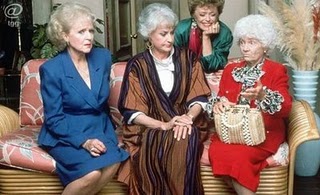 THIS WINTER. I CAN'T ANYMORE.
I've worn my black Sporto snow boots with every outfit I've put on since, like, January 6th. Regardless of whether they go (and usually, they don't). I'm like, slipping into a black hole of despair. At the ripe age of 30, suddenly "wintering" in Miami like a Golden Girl feels like the right thing to do. Actually? Do everything the Golden Girls do seems like something I'd want to do. Staying in with my gaggle of gal pals night after night talking about men and how we're too tired to actually try to date them? Check. Never letting go of your purse a la Sophia Petrillo (she of the mean streets of Brooklyn, me of the many-times-robbed run-down college house in Allston, Massachusetts)? Check. Rolling four-deep all the time and eating cheesecake in the middle of the night? CHECK.
Anywho, in the words of Sophia, BUT I DIGRESS. I desperately require a vaca, but I can't take one at teh mo'. Know what the only thing providing me with a well deserved winterruption? Meet my fake-cation, my Malie Organics Organic Body Polish in Pikake, whose fresh, natural tropical (and yet not cloying) scent takes me back instantly to the beautifully tranquil shores of Kauai, Hawaii. The scrub itself boasts that glamazing balance between sugary and oily to help eradicate dry flakiness from your lifestyle.
The Malie Organics Organc Body Polish retails for $45 at malie.com.
Like this post? Don't miss another one! Subscribe via my RSS feed.