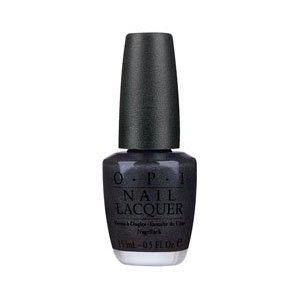 File under so obvious it winds up being… wildly un. When I was backstage during Fall 2010 Fashion Week at Rebecca Taylor getting the scoop on all things beauty, I hit up lead nail tech Theresa Stanley for OPI.
Incidently, the nail look for the Rebecca Taylor Fall 2010 fashion show was one of my absolute dusky talon faves: OPI My Private Jet ($9). This deep granite grey glistens with delicate, small glitter that actually imparts a holographic shine. It's so fabulous that I, an infrequent lover of dark polish (glittery polish as well) find this combo devastating in a GOOD way. In fact, the only thing better than My Private Jet… is my private jet (that I don't own yet).
The point is, Theresa shared this tip when I interviewed her backstage: The best shape for your nails is the one that mimics the shape of the way it grows from your cuticle. The free edge should be shaped to mirror that. Genius. Mine are square, hence, my nails look best when filed into a squoval/square.
Do you agree? Not agree? Have you tried this? And tell me: What's your best nail tip?
Like this post? Don't miss another one!
Subscribe
via my RSS feed.
*Disclaimer: This item was purchased by me