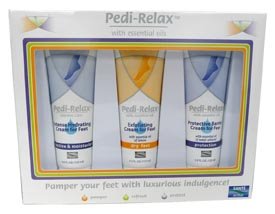 The Pedi-Relax Gift Set
Oh, hi, dolls!
How was your weekend? Mine was fantastical. I enjoyed a brunch with some of my favorite bloggers on Saturday followed by Jim coming over to hang my mirrors (he even brought his power drill!), watch Golden Girls and drink wine, THEN, we headed to Outback for foods and cosmos with his BF. Sunday, I reorg'd my closet and enjoyed a delish dins at Otto in the village.
Let's discuss Pedi-Relax for a minute, shall we? It's a European foot-care brand I'd never heard of, but it's pretty phenom. Before I moved a few weeks ago, I had all of my friends come over and dip into my extra products stash and amid extras of Pantene, MAC, even a bit of CHANEL, would you believe that there was only one fight that broke out (between my friends Jenn and Tara) and it was over PEDI-RELAX of all things? Actually, I can. I'm loving the brand's Exfoliating Cream for Feet ($8, pictured above, center). It provides extreme hydration whilst providing STRONG exfoliation of dry skin and scaliness. Three hours of this cream under a pair of thin cotton socks and my feet are looking good. The formula even does triple beauty duty: It exfoliates, hydrates and provides relaxation, thanks to its essential oils like Sweet Almond, Lavender, and Thyme. Each Pedi-Relax foot cream even creates a protective barrier that keeps your feet feeling extremely soft to the touch and not just for one day, but for days.
I rarely turn down an opportunity to try a foot cream, so I've dried dozens over the years and this one is one of the best for exfoliation. You can try the brand's creams one at a time, or you can purchase this Pedi-Relax 3-Piece Gift Set which includes a Protective Barrier Cream, Exfoliating Cream, and Intense Hydrating Cream for only $20.
Pedi-Relax is a full line of foot care products developed in Europe more than 35 years ago. Their focus is on keeping dry feet feeling fresh and protected. They KNOW from feet, okay? All of the products within the line can be used separately or together depending on your own needs.
You can purchase the entire Pedi-Relax Line at santeactiveusa. But no fighting, mmkay?
Like this post? Don't miss another one!
Subscribe
via my RSS feed.