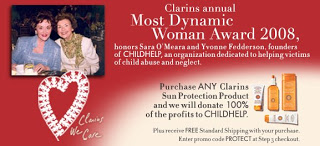 Yesterday, I attended Clarins' Most Dynamic Woman Award presentation at the Hudson Hotel's Apartment Terrace. The event recognizes an exceptional woman who has devoted her life to bettering the lives of children facing hardship. Christian Courtin-Clarins, Chairman of the Supervisory Board of the Clarins Group, presented this year's award to Sara O'Meara and Yvonne Fedderson, co-founders of non-profit organization Childhelp. Childhelp is dedicated to helping victims of child abuse and neglect through an approach that focuses on advocacy, prevention, treatment, and community outreach. These two fabulous women are so committed and enthusiastic about this oft-overlooked tragic issue. Kathie Lee Gifford even provided opening remarks where she shared a vile statistic with us: four children die daily as a result of child abuse and neglect. Three out of the four are under the age of four.
Sara and Yvonne began their commitment to children in 1959 while on a goodwill tour to visit troops in Tokyo. There, they encountered eleven half-American, half-Japanese children wandering the streets homeless and took the children to their hotel room for the night with the idea of placing them into an orphanage the next day. Within three weeks, Sara and Yvonne had become surrogate mothers of 100 Japanese-American children, and by 1964, the two had established a school, a hospital and nine orphanages in Japan and Vietnam. In 1966, after completing similar lifesaving work for orphans in Vietnam, Nancy Reagan, the First Lady of California suggested the women turn their attention to child abuse and neglect in the United States. The Senate Subcommittee on Children and Youth had released a study that child abuse had become epidemic in the U.S. and was the leading cause of death among young children. With encouragement of childcare experts in private and public sectors, Sara and Yvonne began a campaign about child abuse, producing and airing the first television special on child abuse in America.
Childhelp's approach focuses on advocacy, prevention, treatment, and community outreach. The Childhelp National Child Abuse Hotline, 1-800-4-A-CHILD®, operates 24 hours a day, seven days a week. In nearly 50 years of operation, Childhelp programs have helped over 4 million children. A VERY worth cause, n'est-ce pas?
What can you do to help? Clarins is generously donating 100% of the profits of all of their sun protection products purchased online to Childhelp during the months of June, July, and August. Even better? Clarins will provide free shipping. Click here to protect your skin and protect a child.
Photo credit: clarins.com