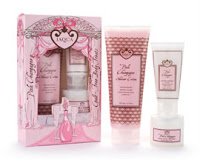 Daneen over at Spoiled Pretty is one of my favorite fellow Philadelphians. (Did you enjoy that alliteration as much as I did?) Anywho, I was just checking out her blog and was informed that Jaqua, one of my fave brands, is hosting a "Founders Day" sale on March 10th in honor of the day they were incorporated.
Per Daneen:
* The amazing Pink Palace Kit (regularly $39.50) is only $10!
* The brand spanking new Pink Champagne Guilt-Free Kit (regularly $30) is just $10.
* The Body Butter Trio and Shower Crème Trio (regularly $24) are $10!
* And how much do you think the Body Butters (regularly $22) and Lip Whips (normally $14) cost? $10, of course!
Promo Code: JUST10
Expires: 3/10/08 or while supplies last.
Stock up on that shiz!
src="http://pagead2.googlesyndication.com/pagead/show_ads.js">