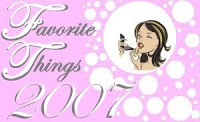 It's been an eventful, good year, although not my best year ever. According to VH1, that title went to Rehab. I kind of agree, when my 14 year old cousin found out that his grandfather was in rehab (as in, physical therapy), he was WILDLY impressed because he'd only heard rehab associated with celebrities. Meanwhile, his grandfather slipped and fell, hence the reason for the PT. This is the world in which our children live. Can you even?
I digress. My readership stats have skyrocketed in 2007 thanks to all of YOU! I appreciate the support, advice, hilarious comments, and community that you, the reader, bring to this site. I've made so many friends (both Internet and in real life) as a result of it and have even reconnected with old ones (hi, high school friends!). Thanks to Annie of Blogdorf Goodman for organizing Favorite Things 2007! I've included links to the original posts, click them for more info on each product. Have a fantastic holiday season and I hope 2008 is as fab as all of you are.
1. Pureology SuperStraight Styling System The BEST shampoo and conditioner I've EVER used. I was heartbroken once my bottles were empty. Not cheap (it's about $28 for shampoo and the same amount for conditioner at DUANE READE), but worth the money. I save it for weekend hair. I haven't tried their other formulas, but I'm sure I'd be impressed.
2. Origins Faux Glow is my face self-tanner of choice. Never orange, lasts a few days, and doesn't streak. Exfoliate first, then apply. I use it 2-3 times a week.
3. Frederic Fekkai Defense Protectant Spray The perfect antidote to thirsty, frayed, in-need-of-a-trim ends.
4. Boscia Salve – I used up this stick in about a month. I only wish it came in a larger tube. Use it and join Lip Balms Addicts (LBA).
5. Boots Nail Polish Remover Pads – Another thing I'm out of and I'm MIS about it! These fruit-scented pads work wonders to remove even dark polish while moisturizing. But you'll have to cross the "pond" to get them, unfortunately.
6. Elizabeth Arden Espresso Eye Pencil has become my go-to dark brown eyeliner. Produces rich, highly-pigmented, blendable color. The sponge it comes with at the other end blends harsh lines to perfection. Use it and BE Amanda Tanen.
7. Freeman Sugar Body Scrub – a cheap thrill that delivers. You'll love the pomegranate-sugar scent, but you'll adore how smooth your skin feels post-use. AND, Freeman never tests on animals. Good stuff all around!
8. Garnier Skin Renew Regenerating Micro-Polish Kit – It's so rare that I love all pieces of a set, but this polish combo is IT, dolls. Love the exfoliater, love the oil-free moisturizer it comes with. AND, you can buy it at drugstores for a mere $16.99. Check it OUT.
9.
T3 360 + Orlando Pita Plump
So much to say about Plump. Orlando himself told me he worked directly with chemists to formulate this product which provides volume without resulting in Sahara-dry roots – something I've NEVER been able to find in either a mousse or a thickening spray. Usually, I just accept my fate as having big but dry/dull hair. Orlando says, why accept dry/dull hair when you can have enormous shiny LUSTROUS hair? Also, he's not a dude to self-promote. Case in point: he could have EASILY created a line of products resulting in as much or more fame than say, Frederic Fekkai (I prefer Orlando's work to his though Frederic is great), or even Vidal Sassoon in the 80s. But he CHOSE not to. He only opened his salon, Orlo, in 2004 to do "something different" (he told me this himself) and when he found a company worth of his collaboration (T3), he STILL only created two products: Boost and Plump. Know what? Despite my arsenal of products, I'd say that these two are the only styling agents one NEEDS. The others are additional if-you-have-time luxuries. Why? One creates volume and the other manages frizz and creates glossiness. What else is there? Now if only I could afford his $800 hair cuts on a regular. Or once. Sigh.
10.
tarte rise and shine – I don't pose for a photo without this stuff (in Mauve) in tow. One side stains, the other provides plumping, vanilla-scented shine.
11. Guerlain Kiss Kiss Gloss in Rose Florida produces a raspberry-scented, highly-glossed, pink pout. Use sparingly lest it look slightly bubble gum-esque. A little goes a long way.
12. MBTs
I don't go ANYWHERE without these. They're expensive as hell (about $250) but mine have already endured nearly 2 years of daily use and are in good shape. My butt and thighs are in MUCH better shape since wearing them for at least an hour per day. Check it out fo shizzle.
13. Marilyn Brush
This makes SUCH a difference in my lifestyle. I know longer have to WIND my hair around a brush. Winding is so time consuming and ANNOYING. I'm OVER it. It's so 2006 for me. Make it so 2007 for you.
14. Dior Diorshow Mascara has changed my LIFE. The brush it comes with is probably large enough to style my bangs with, but it lengthens, defines, and blackens my lashes to a tee. I'm hesitant to try any other mascara. Diorshow has truly become my HG one.
15. T3 Evolution Hair Dryer
I'll just say it: my BEST product of 2007. Cuts your time in half, actually GETS hot enough (but you have the option to cool it down), and emits tourmalines to yield smooth, covetable hair. Like MBTs, I've convinced several of my friends to purchase this dryer despite the hefty price tag. But I've said it before and I'll say it again: heat tools are WORTH the investment. They'll last about 3-4 years and you'll probably want to upgrade before than once T3 comes out with something better. Only they top themselves. Mmkay?
Check out other participating bloggers' favorite things lists! Tell 'em BBJ sent you!
I'll catch up with you in '08!