Says makeup artist Matin Maulawizada, "I've always been in love with Vatican history and all of the wonderful and naughty affairs that had happened there throughout history. On several occasions, my friends have called me closeted Catholic. So obviously this exercise was very exciting for me to create a look that reflected some of the women that played pivotal roles in the Vatican. One of the most fascinating characters to me was Lucrezia Borgia. She was beautiful, manipulative and cunning the way she worked the men in her life.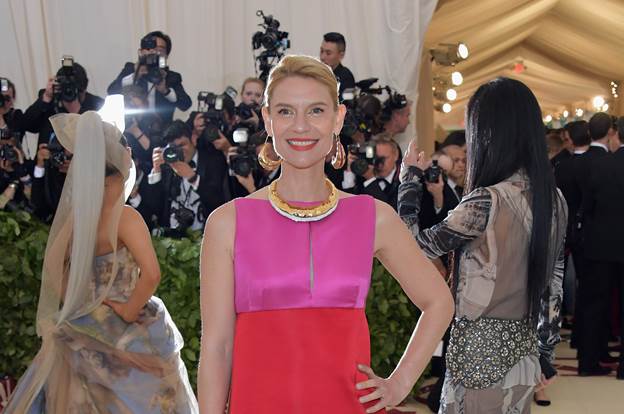 One portrait by Bartolomeo Veneziano is in fact the inspiration for this makeup. The make-up is mostly transparent with bits of sheen and highlighting on the skin and gold on the eyes. She is wearing this gorgeous Marni Gown with red, pink and bronze that looked regal and ethereal on Claire." Here, the beauty breakdown courtesy of Matin.
"To add moisture and glow. I used RéVive Instant Line Reducing Serum and Anti-Aging Eye Serum followed by RéVive Moisturizing Renewal Eye Cream and Face Cream to seal in moisture.
Follow by a wash of tinted moisturizer and cream highlight. I used a liquid blush on the cheeks to bring out the flushed reddy cheeks they are seen in most paintings but the eyes are just adorned by shades of baroque gold and glitter without using any pencils or mascaras to outline them. To bring out the eyes I used Lashify gossamers which are placed under her own lashes so it simply adds definition without the heaviness of hard eyeliners and mascaras.
For her lips I used a wash of powder lipstick just to add tint as if they were bitten."