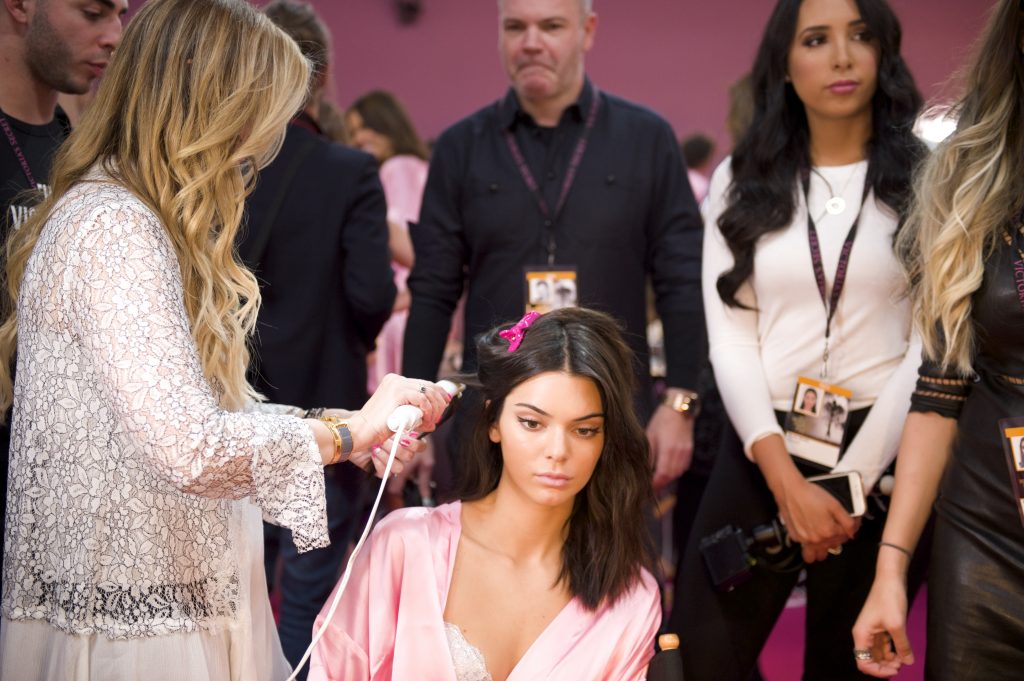 Want waves like Kendall Jenner will be donning on the Victoria's Secret Fashion Show tonight? Who else is planning to watch it and then promptly go on a diet of water and air? 😉 Here, the breakdown on how to get the look, courtesy of celebrity hairstylist Sarah Potempa.
1. Prep hair with a volumizing mousse and blow dry up with the Beachwaver Co. Pro Dryer. Loosely blow dry hair to create the look of gorgeously flipped hair with beautiful volume. Bring all hair to the front and then allow it to fall and follow your natural hair part. Start by sectioning hair from the bottom up using The Beachwaver Co. Darby Clips.
2. Using The Beachwaver Co. Limited Edition White BEACHWAVER S1 Rotating Curling Iron, clamp near the ends of your hair, leaving about 1" out at the ends. Then, press the arrow away from your face. The curling iron does all the work for you by rotating in both directions. You control the temperature, the speed and the rotation, so it works on all hair types and textures. Continue to curl up in large 2" sections as you move your way up. Repeat on the other side.
3. Lightly spray a flexible hairspray on your fingertips and gently pass them through the ends of the hair to separate the curls for instant beach waves. Finish the look by smoothing flyaways with a styling crème on the hair line and on the ends of the hair.
Tip: If you have curly or frizzy hair, try the Beachwaver Co. Mini Touch Up Iron (which was also used on some of the girls backstage the Victoria's Secret Fashion Show).
The Beachwaver is sold at Nordstrom.com.