Perhaps inspired by my Facebook feed crowd, I decided to do the Ultrasound thing, but you know, the Glamber way. I opted for Ultherapy's ultrasound energy, a non-invasive treatment, to lift and tighten my neck and chin.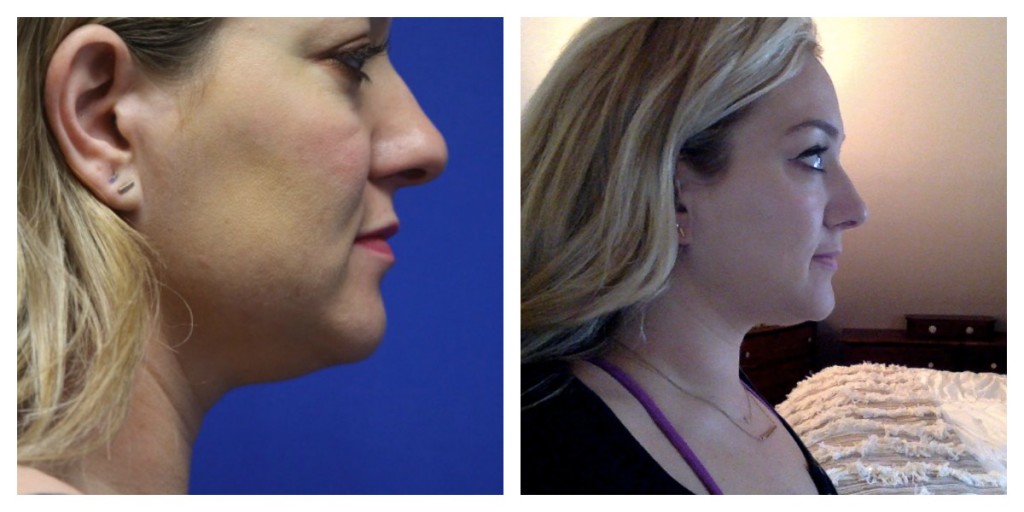 First off, here's what Ultherapy IS: It uses the power of ultrasound to stimulate the body's own natural pathways to generate collagen. By generating collagen deeper under the skin over muscle, it lifts and tightens saggy areas of our face and neck. Ultherapy is the only non-invasive skin lifting procedure that has been cleared by the Food and Drug Administration (FDA). It uses ultrasound technology to gradually tighten the skin of your brow, face, and neck, and to improve lines and wrinkles on your décolletage, from deep within. As a result, skin will actually begin to lift over time. Collagen is a natural protein that makes skin firm and supple. As we age, collagen loses its elasticity and its ability to stand up to the effects of gravity that pull the skin downward. Ultherapy jump-starts a repair process that produces fresh, new collagen.
Dr. Jennifer Levine on Manhattan's Upper East Side did the honors. While I was initially intending to focus on the "necklace" lines on my neck — perhaps a byproduct of looking down at a laptop day in and day out — Dr. Levine told me the results would be much better if we did the area under my chin as well, so I opted for an Ultherapy poo poo platter of sorts.
After we took some before photos and I took some medication to feel more relaxed, a nurse applied some numbing cream to me and I prepared for several numbing shots to make the process less painful. Believe me when I tell you I'm so grateful Dr. Levine strongly advised the shots — shots in the neck and chin are not something I'd want ordinarily, but I'm glad I got them. It took about 30 minutes to treat my neck and chin areas. The next couple of days, I didn't see much of a difference, and I avoided touching the area, which was pretty tender. The following day, I woke up pretty swollen.
I called Dr. Levine and she said that it was normal and that the swelling would continue to subside from here. Sure enough, the next morning, my face was about 50% less swollen and within a few days, the swollen tissue that had gathered under my chin went from sizable to its current state, which is about the size of a tic-tac. It's continuing to diminish from there.
Already, two weeks out, the area looks firmer and tighter and the lines on my neck look far less noticeable. The skin looks less textured and much smoother. I'm excited to see more results from here, as the collagen continues to build over the next few months. The best part is that it's not obvious, it's just a subtle change for the better.

My late literary idol Nora Ephron would be proud: I no longer feel bad about my neck.
This is sponsored blog post written by me on behalf of Ultherapy. The opinions and text are all mine.  Results may not occur for all patients.
The non-invasive Ultherapy® procedure is U.S. FDA-cleared to lift skin on the neck, on the eyebrow and under the chin as well as to improve lines and wrinkles on the décolletage. The most common side effects reported in clinical trials were redness, swelling, pain, and transient nerve effects. For full product and safety information, visit www.ultherapy.com/IFU