Though I've experimented a bit with peels (the Vi Peel in particular was fantastic), I was new to laser treatments when I was invited to try the Halo Hybrid Fractional Laser. I was intrigued! Boasting minimal downtime (about 5 days), it's the world's first and only hybrid fractional laser, applying tunable non-ablative and ablative wavelengths in a single pass.  The operator chooses one of three coverage-base treatment levels, and Halo calculates the exact amount of energy necessary to complete a safe and effective treatment. The benefits of a Halo treatment include both epidermal and deeper dermal pigmentation and tone and texture in the skin.
After some research, I was pretty impressed with the before and after photos I found. Lots of reduced pigmentation and brighter, more even skin tone seemed to be the theme. So I decided to go for it.  Who doesn't want skin tone and texture improvement, along with less discoloration, reduction in fine lines, reduced pore size and an overall glow? Not one person. With 5 days' downtime scheduled, I prepared to burn through some deadlines while I recovering from the treatment and was secretly looking forward to a few days as a shut-in.
I went to the fabulous Dr. Ulysses Scarpidis at Scarpidis Aesthetics in Manhattan, after an initial consultation where he shared before, during and after pics of his own Halo treatment. It's always a good sign when the doctor has had the treatment performed on himself. Then, I scheduled the appointment. After taking some before pictures, Cosmetic Coordinator Julia Williams slathered me up with numbing cream, which I kept on for about a half hour. Dr. Scarpidis then performed the treatment, which didn't hurt at all and took about half an hour, as well. Immediately after the treatment, there is a burning sensation (keeping it real, friends) that is pretty intense. The good news is Julia had ice packs at the ready for my super-hot skin and I went home right after and the entire hot ordeal was limited to about an hour. There was no pain other than that involved in the entire process.  My skin was red the first night (I had it done around 4pm).
Days 1-5
The second day, my skin was red and kind of swollen, which is normal. The sun damaged areas were apparent; there were little raised brown marks all over, almost like raised blackheads. Yes. It was not cute for me. But this is the nature of downtime and I knew what I was getting into. The third day was the worst, the raised bumps were the most pronounced and the texture was super uneven, as they were scabbing over. Throughout the process, I washed my face with a mild cleanser and applied Avene Cicalfate, which helped immensely. It's a salve that intensely hydrates and repairs skin. I also made sure to apply SPF a couple times a day at a minimum. The next day, most of the scabbing had come off with a washcloth and I was able to apply my favorite "in recovery" treatment makeup, It Cosmetics Confidence In A Compact Foundation, which evened out my skin tone while hydrating and protecting from the sun, thanks to SPF 50. By day 5, my skin was in decent shape, just a little red and slightly swollen. I attended a party and just reapplied my It Cosmetics via the compact a couple times throughout.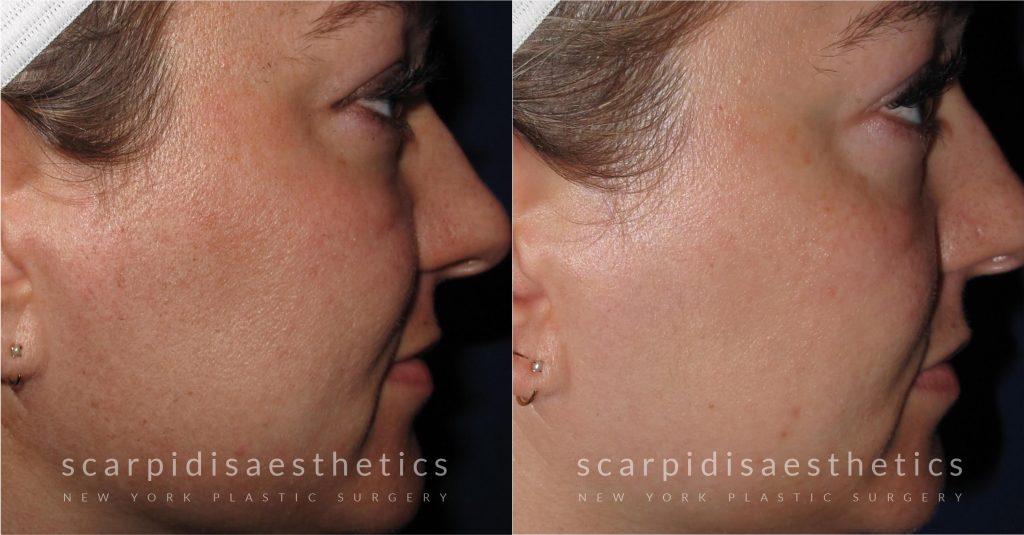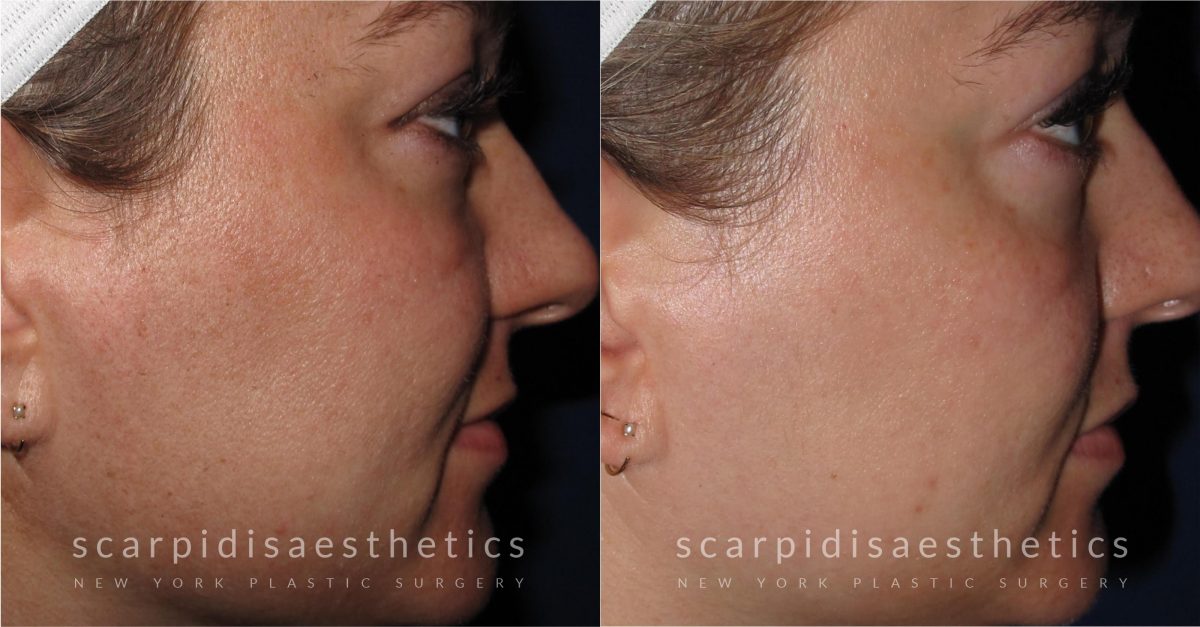 Before and one month after
Now that it's been about 5 weeks post-treatment, my skin has healed and my pores feel a lot smaller. My skin is also a bit lifted, which makes a difference. You can see in the before and after how the pores are less visible and there's an all-over brightness restored, along with less "baggage" in my undereye area. The tone looks far more even, as well.
Obviously, if you're considering this treatment, or any cosmetic enhancement procedure — you have to do your research. Get a consultation with a respected provider. The treatment is priced around $1,500 per session, which is in line with other laser treatments. Check out some reviews on Real Self, and research a medical provider before trying Halo. Let me know what you think of the procedure if you've had it done!
This post was sponsored by Halo, but all opinions herein are my own.