For those of you familiar with my reviews, I'm not a fan of mascara primers.  I find them stiff and lacking in pay-off.  HOWEVER, I do keep an open mind, and L'Oreal's Voluminous line of mascaras are iconic at this point. 
Superstar Mascara is L'Oreal's first primer+mascara
; the primer promises to prep the lash with smooth volume and the mascara offers a rich super-lengthening formula.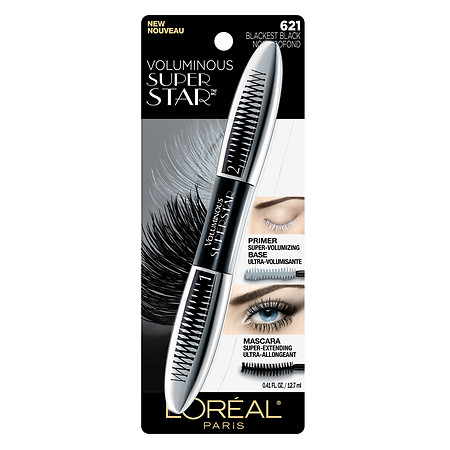 The first thing I noticed is the primer is creamy and rich and goes on evenly with the hourglass-shaped brush.  I was impressed that I had quite a bit of play time with the primer, getting my lashes into my desired shape.  The mascara side has a subtly curved brush with stiff bristles.  The bristles help keep the fiber-y formula from getting too clumpy; could this also be because of the primer? My lashes look super dense and full with soft tips.  I didn't really need to go for my midday touch-up ritual but I could also feel that my lashes would've been too dry anyway.
I needed eye makeup remover+soap and water at the end of the night but I have to say I wasn't mad.  My lashes looked great all day… Hmmm… Maybe primers aren't so bad after all? Buy this one!
—Ashleigh Ciucci