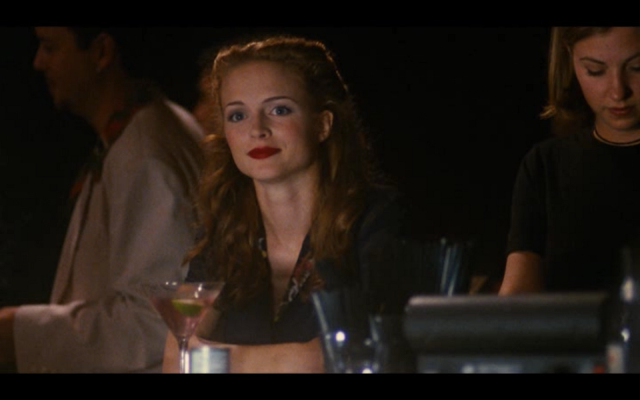 Heather Graham as Lorraine in "Swingers," getting combmantical!
Fictionary is a column showcasing beauty-related words that don't exist, but should.
Here's some swell news: Hair combs are once again in the mix! But DO call it a Combback. Butterfly Studio Salon owner Kattia Solano showed me how to create a gorgeous retro hairstyle complete with combs and Veronica Lake waves that took about 15 minutes. The effect? So very Swingers' Lorraine, played by Heather Graham. Read on for a tutorial on how to get the look with just one product that yields such sleekness, it eliminates the need for a round brush. Indulge in a fall combance.


Oh, Big Bad Voo Doo Daddy. Want Lorraine's hairstyle in Swingers? In the parlance of Trent, it's so f*cking on.  All you need is one oil from the new Kerastase Fibre Architecte, a blow-dryer and a one-inch curling iron. Here's the step-by-step how-to straight from Kattia Solano, who created a Lorraine look for me this week (pics below).
"Natural volume is the best foundation for this style. The best way to achieve this is to blow dry your hair with your head flipped over, starting with the root area first. Flip hair back and separate into two sections and blow dry while twisting hair ends with your fingers, away from the face. After the hair is completely dry, an important step is to brush the hair out – even if you already have a wave or curl to your texture," she says. Apply Kerastase Fibre Architecte on your dried hair for more manageability and shine.
Create a side-part. Start with the side you are going to pull back the most and curl your hair–the curl occurring from eyebrow level, down–in horizontal sections away from the face. Follow the same direction all the way to the other side of your hair, so that you end up with the curls going toward your face. When done curling, brush hair away from the face–which is where you will see the S shape wave form.
Then you'll need two side hair combs like these on Etsy. Start by softly twisting the section of hair on the side you will be pulling back behind the ear and secure with one comb. For the section above your part, begin twisting the hair at the part from the hairline and over to your temple. Secure with second comb. To create more fullness, pull on the hair in the twist slightly with your fingertips. Finish with a little oil from mid shaft to ends to complete the soft, touchable look.
I find that the Fibre Architecte really helps smooth, allowing me to skip the step of straightening my curly/wavy mane before curling with an iron, so I can just loosely blow my hair dry and be good to go. Kattia also shared this genius tip: When drying your hair, separate into two big sections and twist a Cindy Brady curl (you know, like her rag-curlesque pigtails) while you dry to help smooth and encourage wave. Here's the final effect. Thanks to AHNGE for taking these pics of me at Dos Caminos.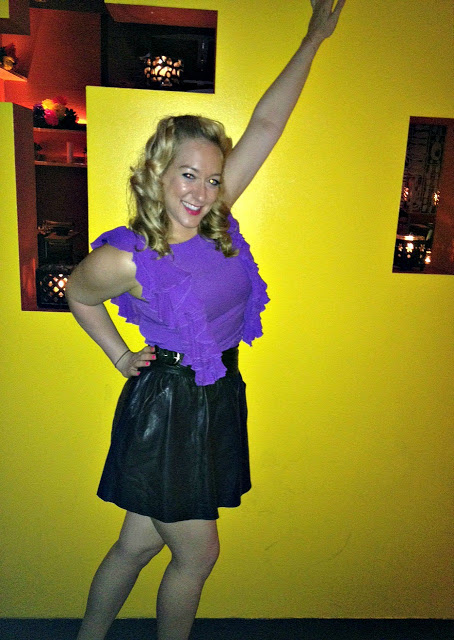 Two parts Lorraine in Swingers and one part Lorraine Baines in Back to the Future. I KNOW! Call me LORRAINE!  Kattia decided to go for this look instead of the other option (sleek and straight) because she said I have the face for retro, which was the best compliment I'VE ever received. Are you pro Combback?
Buy the Kerastase Fibre Architecte for $43 each at birchbox.com and Kerastase Consultant Salons.