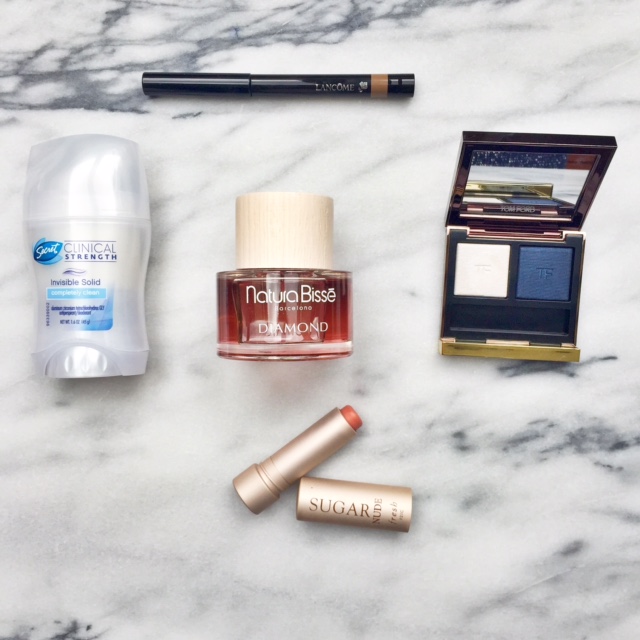 I'm en route to Las Vegas and here's what's coming with me in my carry-on!
Lancome Brow Marker is the next best thing to implants or a brow tattoo, if you're not yet ready to embrace a Mike Tyson tattoo-on-my-face lifestyle. $26 at sephora.com.
Secret Clinical Strength Invisible Solid adapts to respond to the ups and downs of your day (the average is 500, per Secret's testing) by reducing sweat and fighting odor-causing bacteria. $8 at drugstore.com.
Natura Bisse Diamond Limited Edition Diamond Absolute Damask Rose Body Oil imparts a subtle sheen and is available in limited quantities, so get on it. $65 at bergdorfgoodman.com.
Fresh Sugar Nude Tinted Lip Treatment is more peachy than its honey-hued iteration, this SPF-infused lemon-flavored balm is a cult classic for a reason. $23 at sephora.com.
Tom Ford Eye Color Duo in Crushed Indigo is literally the palette for which I've been searching for decades. I've spoken here a million times about the mystical Clinique iridescent grey/blue/white shadow I bought in a limited edition holiday palette called "The Metallics" in 1995 which I used up, then had Three Custom Color moderately successfully recreate it from the tiny portion I had left. But the lighter side of this palette from Tom Ford? THE TOTAL STUNT DOUBLE. And I didn't even call it in thinking it would be anything like my shadow obsession, as it looks a little more blue in the pan than my former go-to. Color me pleased, TF. $60 at saks.com.