Here, the five beauty products blowing my hair back, literally and figuratively, this week.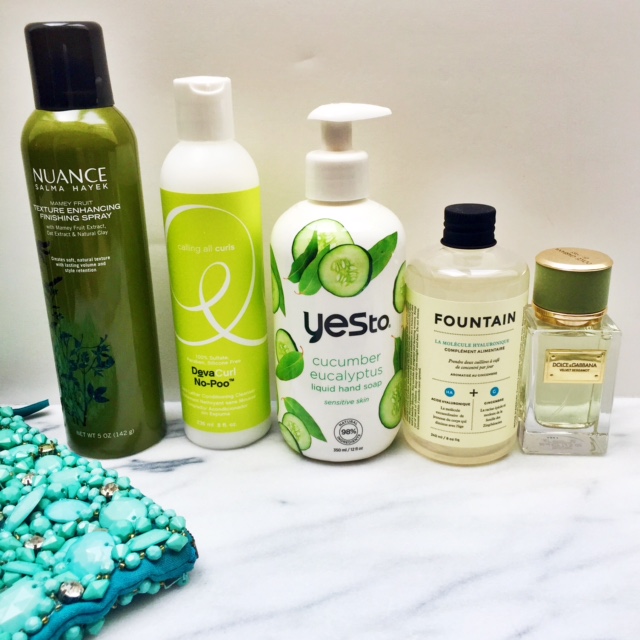 Nuance Salma Hayek Texture Enhancing Finishing Spray A drugstore gem that delivers! This texture spray adds bulk without desiccating.
DevaCurl No-Poo DevaCurl devotees display David Koresh levels of loyalty, and after a styling session at DevaChan, I understand why. Ten plus years of my curls not behaving/producing a uniform look and all it took was the brand's tried-and-true method, along with their magically non-crunchy products to yield the best curls I've had, EVER. Get involved with No-Poo, their conditioning cleanser.
Yes To Cucumber Eucalyptus Hand Soap The first thing I do when spring cleaning? Switch out my cold-weather scented hand soap for fresh fraganced one, like this divine cucumber-eucalyptus confection from Yes To.
Fountain The Hyaluronic Molecule The crux of my beauty education was my 6 year-old self viewing The Hugga Bunch Movie, in which  a girl travels through her mirror (cue too many years of me crashing my face into my mirror trying to get through to get to magical lands/my obsession with mirrors of all sorts) to Huggaland in order to get her grandmother these special berries that will keep her young. I've lived my whole life looking for something like this and Hand Chemistry has finally PRODUCED it, with their concentrated, ginger-infused supplement.
Dolce & Gabbana Velvet Bergamot That special Italian fruit is fused with herbs and cassis for a special Sicilian summer scent. Get into it for warmer weather.
What are you loving this week?