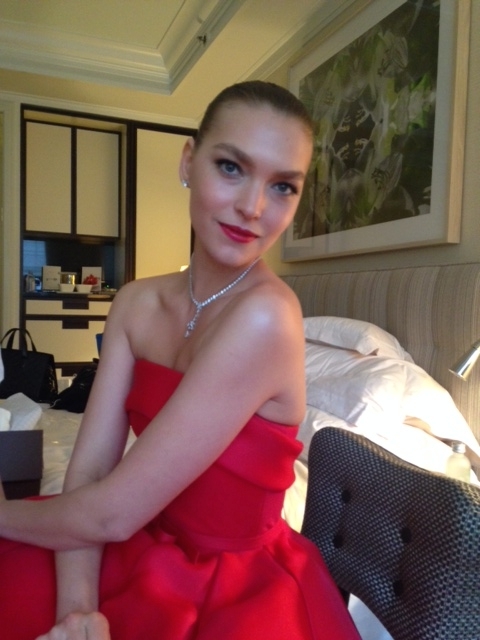 This evening, I had the amazing opportunity to chat with the stunning Arizona Muse while she was getting ready for the 2014 Met Ball at the Mark Hotel on the Upper East Side. I mean, is she giving us '90s Linda Evangelista in that snap above or what?  And ladies, lest you think your man is a keeper? Arizona's BF went to Gucci to purchase shoes for her, as the ones she was originally sent weren't quite right. "He has such good taste," Arizona's agent noted. "Normally, I'd be hesitant to trust a guy, but he's up to the task. Wait till you see how he dresses." Spoiler: He accomplished the mission with flying colors. I caught up with the Estee Lauder spokesperson about her red Ralph & Russo gown ("It's the dress you dream of wearing when you're five," Arizona confessed) , her clutch essentials and the real low-down the bathroom touch-up culture at the fashion gala of the year.
R18: What's your skin-care prep for an event like this?
Arizona Muse: I love body scrubs, so I did one yesterday, a weird Ayurvedic treatment I love. They scrub your body with sugar, salt and herbs. I didn't do any huge skin prep. Just clean skin.
R18: Can you share a bit about your facial skin-care regimen?
AM: I wash my face in the shower usually and I shower at night because I like to really wash everything off before bed and I do a scrub. I scrub daily, I really like them. Then a milk cleanser, because they're quite moisturizing, as well. Then toner. I really like toner before moisturizer. I use a mild one for everyday, but I have a more powerful one I break out once in a while.
R18: That's a gorgeous necklace [upon hearing she'll have a guard join her in the car on the way to the event to ensure its security]. Are you going to cry when you return it after the gala?
AM: It's a DeBeers necklace. Well, that's the full Cinderella effect! It comes to an end eventually.
R18: So true. What are you bringing in your clutch?
A $20 bill, my Estee Lauder lipstick, my hotel key (though you can always make another), an ID, my phone, a black liner pencil that I never end up using, but like to know it's there.
R18: Real talk: What's the story on the bathroom Met Ball culture? Is everyone reapplying a full face of makeup? Do you walk into a cloud of hairspray? 
AM: There's actually not to much of that. There's a lot of chatter. You end up seeing a lot of people, catching up. That's one of the best things about this event.
R18: Who are you most excited to see?
AM: Friends whom I don't always see. I'm looking forward to seeing Suki Waterhouse. I'm really happy to be going with Jane Hudis. I feel so grateful to be working with such a wonderful brand.
R18: How about fitness prep? I'm sure you exercise all year long, but did you do anything in particular to get ready for tonight?
AM: I went for a long run yesterday. My fitness regimen is pretty regular. I run, do yoga and swim. I run outside. 12 minutes is my treadmill maximum. Wherever I am, I run. When I started modeling, I got to know a lot of cities that way, by going for runs so I'd learn my way around. 3 miles is my max. 2.5 miles is perfect for me.
R18: What's your favorite brand to don while working out? 
AM: I love Stella McCartney for Adidas.
Here, Arizona's makeup, hair and nails breakdowns, respectively.
Makeup
Blair Patterson, Director of Global Makeup Artistry for Estée Lauder did the cosmetics concept honors.
Foundation: Estée Lauder Double Wear High Cover Concealer, Estée Lauder Double Wear Light Stay-in-Place Makeup, Estée Lauder Lucidity Translucent Loose Powder
Eye Liner: Estée Lauder Double Wear Stay-in-Place Eyeliner in Onyx and Graphite
EyeShadow: Estée Lauder Bronze Goddess The Nudes EyeShadow Palette
Mascara: Estée Lauder Sumptuous Infinite Daring Length + Volume Mascara in Black and Brown
Brows: Estée Lauder Double Wear Stay-in-Place Brow Lift Duo
Blush: Estée Lauder Pure Color Blush in Peach Passion, Bronze Goddess Powder Bronzer
Lips: Estée Lauder Double Wear Stay-in-Place Lip Pencil in Clear, Estée Lauder Pure Color Envy Sculpting Lipstick in Envious
Skincare: Estée Lauder Advanced Night Repair Synchronized Recovery Complex II, Estée Lauder Idealist Pore Minimizing Skin Refinisher, Estée Lauder DayWear Advanced Multi-Protection Anti-Oxidant Lotion Broad Spectrum SPF 15, Estée Lauder Illuminating Perfecting Primer
All Estee Lauder products are available at esteelauder.com.
Hair
Allen Wood for Bumble & bumble sculpted a really classic, chic, ballet chignon. "It's clean, a perfect flawless surface," he said.  He used Thickening Hairspray to prep the look and applied Does It All Styling Spray applied liberally to the surface and combing with a fine tooth comb to smooth out bumps to "Get the grain in the perfect direction" before coiling the hair around in a bun.
Nails
Kristina Konarski, who's tended to the tips of the late Jackie Onassis, created Arizona's nail look. They went for Estée Lauder Pure Color Nail Lacquer in Ballerina Pink (hands) and Pure Red (toes).
What do you think of Arizona Muse's look at the Met Gala 2014 tonight?