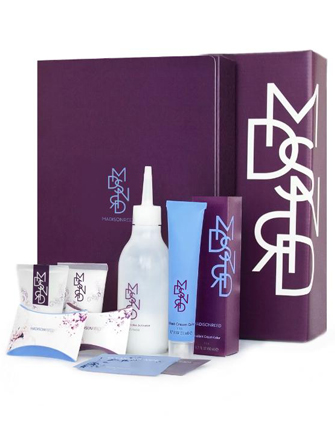 In high school, I attempted home highlights for the first and last time. "I mean, I don't hate it, but I don't LIKE it," my friend confessed upon seeing my highlights, which rendered more polka dot than stripe when all was said and done. She went on to date my newly single ex-boyfriend approximately five minutes after we'd broken up. In the sage words of the Beastie Boys, sabotage? Perhaps, but that was the first and last time I attempted home hair color and few things have inspired me to give it a go once again. Until now.
Enter Madison Reed, an ammonia-, paraben-, and resorcinol-free hair color that promises multi-tonal, salon-quality color with true depth and dimension. CEO Amy Errett hails from the tech world and her goal was to make at-home hair color fool-proof and also look phenomenal. Stylist-to-the-stars Sally Hershberger sanctions the brand and is an advisor.
A veritable Amazon Prime for hair color, Madison Reed (named after her daughter, aw) seriously simplifies the process. The kit comes with easy instructions (with diagrams – but the complete opposite of an IKEA nightmare), the cream color, an applicator fluid housed in a bottle with a convenient "less-mess" tip, two pairs of gloves (one for applying and one for rinsing), a hair cap, color-enhancing shampoo and conditioner, Barrier Cream to keep the skin around your hairline clean, and a cleansing wipe to remove any stray color. You can even order an extra tube for long or thick hair for an additional $10. Need to call for reinforcements? Check the brand's app and website. They not only walk you through finding the correct shade for you  and even provide a video tutorial on how best to apply the color. If you're still in a jam? You can easily press a button (instead of hunting down elusive "Contact Us" info) to email, call, or web chat one of their color specialists. Last but not least, the brand employs colorists who will make house calls.
I've seen the results of the color and I was blown away by the shine, which Errett says that an infusion of argan oil, ginseng root and keratin. There are 27 shades available and the brand provides look books  on its website showing how the shades look on a multitude of hair textures.
Madison Reed Hair Color retails for $30 at Madison Reed.
I want to hear from you: What's your stance on at-home hair color?