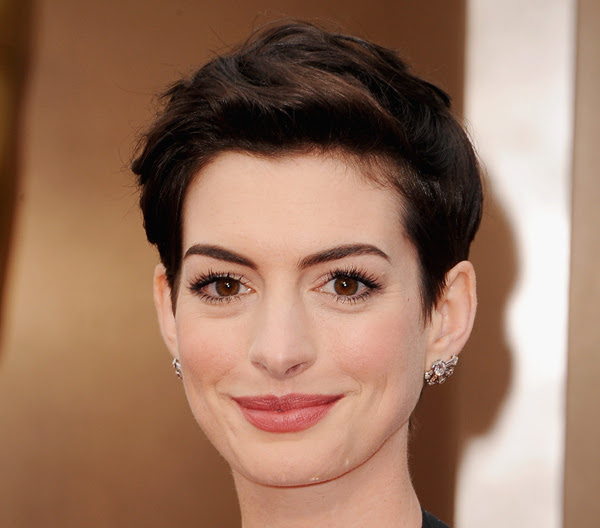 Chanel makeup artist Kate Lee did the makeup honors for the gorgeous Anne Hathaway last night. Says Kate, "I wanted Anne to feel like the most beautiful version of herself. I think the days of deeply sculpting the cheekbones and over-extending the eyebrows are over. A key trend in beauty right now is not about looking at people's makeup, but at how beautiful they are. It's about celebrating your unique individual features."  Here are the Chanel products she used to create this classic, rosy-lipped look. 
THE FACE
"I wanted the skin to be more velvety and not so dewy, so I just used a tiny bit of CHANEL Perfection Lumière Velvet Beige Rosé 22 (Available March 2014) only where needed. I started by putting a drop in the center of the cheeks and blending it out with a sponge, pressing the product in, so it melted and became part of the skin. Then I put a little on the forehead and chin. You don't need to cover your skin—just place it where you want to create a diffusion of light.
THE EYES
I knew her look was going to be mainly about her lashes, so I kept her eyelids very nude by sweeping on CHANEL Soft Touch Eyeshadow in Safari. If you really want the lashes to stand out, do a matte and pale lid—that will ensure you see very single eyelash. You create the perfect canvas. Next I curled the lashes and gave them a generous coating with CHANEL Inimitable Waterproof Mascara in Noir. Then I asked Annie to close her eyes, and I painted the mascara right into the base of the lashes. I didn't use any eyeliner, so I wanted the mascara to sit flush on the skin. From there, I applied false lashes, fitting them exactly to her lid. On the bottom lashes, I took a small fan brush and applied Le Volume de CHANEL Mascara in Noir at the roots only to avoid smudges while also building volume and enhancing the lash line.
THE LIPS
I didn't want a definite "lip." Anne has a beautiful natural lip color, it doesn't need any help, it can do its own work! So I chose a lipstick matched to her natural lips, CHANEL Rouge Allure Velvet Luminous Matte Lip Colour in La Câline, a violet rose. Sometimes people get afraid of lipstick with violet in it, but a lot of people have this tone in their lips. I like to apply one coat of lipstick with a lip brush, blot and feather over the lip line with CHANEL Natural Finish Loose Powder for staying power then go back for one more coat with the lip brush. In the end, I just made her lips more healthful and beautiful to photograph on the carpet."
Additional products used:
• CHANEL Hydra Beauty Sérum
• CHANEL Hydra Beauty Crème
• CHANEL Les Beiges Healthy Glow Sheer Colour SPF 15 in No. 10
• Le Blush Créme de CHANEL in Cheeky (Available May 2014)
• CHANEL Powder Blush in Rose Pétale
What do you think of Anne Hathaway's makeup look at the Oscars 2014? Did her look wish "come true?" this time?