Makeup Artist Kate Lee created Sienna Miller's look at the Golden Globes. "Her dress felt a little bit '60s, but we didn't want to go full-on Bardot. We wanted that really nonchalant French look, which is perfect for Sienna," Kate says. Here, the beauty breakdown in her words.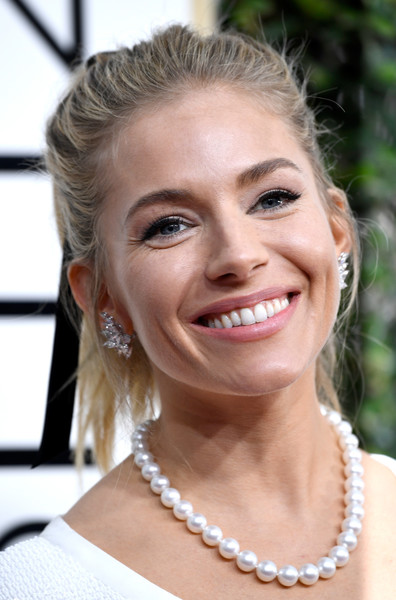 Lips
For the first time ever, I broke my skincare prep steps — and I used a different serum, CHANEL Blue Serum. It has a really great texture. And since I knew the lips were going to be a major part of the look, I really hydrated Sienna's lips with CHANEL Hydra Beauty Nourishing Lip Care.
To create fullness, I applied a little CHANEL Limied Edition Plissé Lumière de Chanel Highlighting Powder just on the crest of her upper lip. Then, I swiped on CHANEL Crayon de Couleur Jumbo Longwear Lip Crayon in Nude. She wanted a nude lip, and that had enough pigment yet was simple to maintain. The secret to a great nude lip is that it needs a certain amount of peach to look sensuous. This was the perfect, peachy-pink color.
Eyes
I spent time working on her eyebrows with CHANEL Crayon Sourcils Sculpting Eyebrow Pencil in Blond Clair, making them a little thicker than usual. Then I applied the light pale shade from CHANEL Exclusive Creation Coco Code Blush Harmony to her lid, and added the taupe shadow from the palette to the socket line. I drew a sharp, thin line along the base of the lashes with CHANEL Calligraphie de Chanel Longwear Intense Cream Eyeliner to add to our Bardot-esque, Jane Birkin idea. I curled the lashes, then finished with one coat of CHANEL Inimitable Waterproof Mascara in Noir, my go-to for red-carpet work.
Face
After primer, I applied CHANEL Perfection Lumiere Velvet Smooth-Effect Makeup Broad Spectrum SPF 15 because I wanted her look to stay matte without needing too much makeup. I used CHANEL Le Teint Ultra Tenue Ultrawear Flawless Compact Foundation Broad Spectrum SPF 15 on the middle of her forehead and chin, the sides of her nose and along her jawline. It diffuses light like nothing else: It's magic powder! CHANEL Le Teint Ultra Tenue Ultrawear Flawless Compact Foundation Broad Spectrum SPF 15 is my favorite. It's great as a final touch before someone walks out the door.