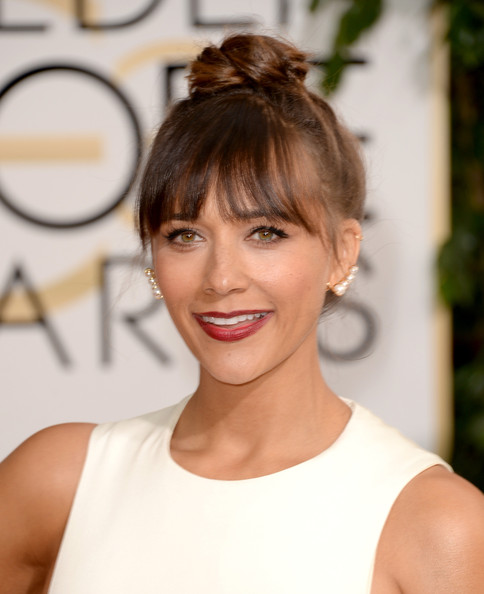 Rashida Jones brought her beauty and fashion A-game, with edgy ear adornments and a sleek top-knot and simple, pretty makeup with a statement lip. Read on for the scoop on how to get the look, courtesy of her makeup artist and hairstylist. 
MAKEUP
Makeup artist Kathy Jeung said, "Rashida had the wonderful idea to do a clean, but subtlety golden eye look with black cat eyeliner, flushed cheeks and strong wine colored lips to go with the gorgeous gown chosen by her stylist Brad Goreski. Sophisticated, elegant yet youthful." Kathy started with John Masters Organics Rose & Aloe Hydrating Toning Mist ($20), then lightly massaged L'oreal Paris  Age Perfect Glow Renewal Facial Oil ($19.99) into skin to hydrate, sooth and add radiance. She tapped  Shiseido Benefiance Eye Cream ($55) with her ring finger.
Then, she used  CARGO_HD Picture Perfect Lip Primer onto lips to hydrate & prepare lips for lip color. She applied CARGO_HD Picture Perfect Pore Refining Primer ($32) all over face with a disposable triangular sponge to give skin a smooth canvas to apply makeup and long lasting wear.
Then, she put on CARGO_HD Picture Perfect CC Cream in medium/dark ($39) with a flat foundation brush in sections over face and neck, then blend with water moistened Beauty Blender ($19.85) sponge. She lightly dusted CARGO_HD Picture Perfect Translucent Powder ($32) lightly all over face and eye area to prepare for the rest of the makeup.
Kathy used Anastasia Brow Wiz ($21) sparingly to fill in and shape brows, brushed with a clean spool brush to even out and distribute color, then set shape with Anastasia Brow Gel in clear ($22). To highlight the eyes, she applied Cargo Essential Eye Palette in Dark Neutral ($32) and complete the cat eye look with Cargo Texasliner Liquid Eye Liner ($20) – keep the line width narrow, but extended, tilting the wing on the end slightly. The line begins 3/4 in from the outside of eye to open the eye area.  She applied two coats of Cargo Better-Than-Waterproof Mascara in Black ($20) to upper and lower lashes.
She brushed Cargo bronzer in Medium  ($29) onto temples and high on the outer cheeks to add golden radiance and sweep under chin to define the jaw line. While Rashida was smiling, she applied Cargo Swimmables Water Resistant Blush in Ibiza  ($26) on the apple of the cheeks with a fluffy round dome brush to give a flushed glow with a shimmering hot pink blush and added shine with a touch of Cargo  ColorStick cream blush in Maui ($28) for extra staying power & radiance.
Kathy create da strong lip using L'Oreal Paris Infallible Never Fail Lip Liner in Red/Wine ($8.99) and Cargo Essential Lip Color Lipstick in Bordeaux ($22).
HAIR
John Ruggiero created the look for the Parks And Recreation star, saying, "Rashida is one of the most laid back, cool, easy going women I've ever had the opportunity to work with. And I think it's apparent in her Golden Globes look." Here's how to recreate the look.
"I prepped Rashida's hair with bumble and bumble Thickening Spray and blew it out with some body. I then used a 1'1/2 curling iron and waved her hair mostly just to give it texture. I then back-combed and pulled her hair up with my hands to give it an easy, texture feel. After I pulled it on top of her head I gave it a light spray with Bumble Does it All Spray. I then took a slightly lighter color extension and wrapped it around the ponytail, pinned it, back combed it for texture then smoothed it with my hands and made a loose robe braid.
I took the robe braid and made a messy bun and pinned it. After I pinned it, I pulled the braid apart to give an undone look. Once I looked at  rashida and her top knot and made sure that it was even and the appropriate shape and proportion, I sprayed it with bumble Classic hairspray for hold. After makeup I lightly sprayed her bangs and blew them out with my hands."
Are you into Rashida Jones' top-knot? Are you done with top-knots? What about her subtle makeup? Sound off in the comments.