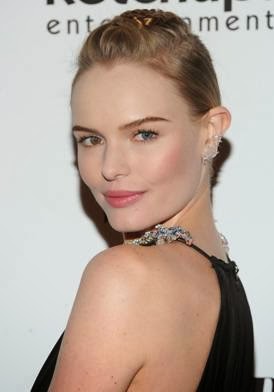 Celebrity hairstylist Renato Campora  worked with Kate Bosworth  for the premiere of Big Sur on Monday, October 28, 2013 in New York. Below, the beauty breakdown courtesy of Renato. 
Says Renato, "I was inspired by a book of photographs from photographer J.D. 'Okhai Ojeiker.  It is full of the most beautiful, sculptural hairstyles I have ever seen. 
I first applied Serge Normant Meta Form Sculpting Pomade to Kate's hair to make it slick, and easy to braid.
I then separated the hair into three 3-inch sections – the top and then two sections on the left and right. I brushed the left and right sections down, keeping hair slick and clean, and then joined them together with a small rubber band to create a baby ponytail.
I took the top section and divided it into three parts, and began braiding each piece downward. While I wanted a soft look, I added a bit of height to her hair at the top to make the style more modern. When I reached her neck, I blended the braids into the ponytail I created from the side sections to achieve a seamless look. Using bobby pins, I wrapped the braids against her head in an upward fashion to keep the hair in place."
What do you think of this look? I love it for a fall wedding. Share! 
Like this post? Don't miss another one! Subscribe via my RSS feed.