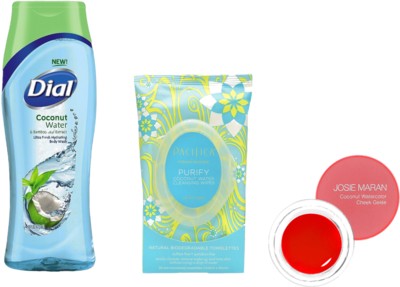 Thanks to its inherent electrolytes, incorporating coconut water in your beauty regimen replenishes lost hydration 
on a level that parellels only what Zico can do for you after a night of Cuba Libres. Not that I've done that. Well, not today, anyway. Here, my favorite three beauty items infused with the stuff. 

Dial Coconut Water Body Wash ($5)

A creamy transparent wash is harder to come by than single dudes with hair in Manhattan, but this electrolyte-infused cleanser brings fresh hydration to parched skin in a lightly foaming vehicle of subtly foaming body wash. P.S. Dial's new Himalayan Salt iteration is also divine. ($5)
Pacifica Purify Coconut Water Cleansing Wipes ($6) 
My skin drinks up the vaguely tropical (but non-foodie), lush coconut water in these easily portable wipes. The flexible plastic "door" and plastic pull thing over the hole ensure you won't be hosting some sort of dried coconut-scented sculpture in mere days. I like to use it to refresh my neck, wrists and feet on long plane rides, though it's also an excellent makeup remover. 

Josie Maran Coconut Water Cheek Gelee ($22)
Feign a realistic post-coital or workout glow (whichever is your bag, doll) with this mild, natural-looking gel blush. It doesn't aggravate my acne-prone skin and is beautifully buildable. Best of all, it feels cool going on and boasts incredibly pigmented payoff. Poppy Paradise is my jam.
Are you incorporating coconut water into your beauty routine?

Like this post? Don't miss another one! Subscribe via my RSS feed.