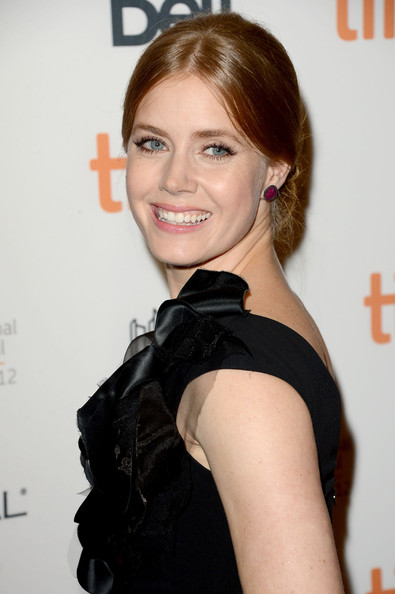 Votre Vu celebrity makeup artist, Stephen Sollitto, to create the beauty look of Amy Adams for the premiere of "The Master" at The 2012 Toronto Film Festival. Here's how to get the look.

Using a damp sponge to create a more natural look, Stephen applied the tinted moisturizer from the Love Me Deux in Limoges all over Amy's face.
"I always add bronzer on every girl I do because I feel like a lot of girls … you add foundation and their whole face is one blank canvas of color, so by adding bronzer there's more dimension which makes them look more natural."
To give dimension to Amy's face, Stephen used the Beaute en Bronze. He applied the matte bronze to her temples and swept it up to the hairline. He then lightly contoured her cheekbones and dusted some under the chin and on the tip of the nose. On her cheeks, he applied the Vu-On Rouge in Ma Cherry, which Stephen was most excited about. To further play with light and dark, he took the concealer from the Love Me Deux and applied it under her eyes.
Stephen is in love with Votre Vu's Le Joli Crayon in Aubergine. "It's very rare that I can find an eyeliner that I like this much. The color is just beautiful and looks gorgeous on so many of the girls I work on!" He used the Le Joli Crayon in Aubergine along Amy's lashes and then dragged it out on the edges; he then swept Chanel's Spice eye shadow over to feather out the line and soften the lash line. Amy is known for having wide, gorgeous eyes, so to play that up, Stephen applied Eiffel Power Mascara to her upper and lower lashes. To keep Amy's brows looking defined, yet natural, he used Arch de Triumphe in Fair.
On the lips, Stephen used the Vu-On Rouge in Ma Cherry again to give her a gorgeous sheer lip. Lastly, he lightly dusted Belle Poudre in Light to set the makeup and decrease shine.
What do you think?
Like this post? Don't miss another one!
Subscribe
via my RSS feed.